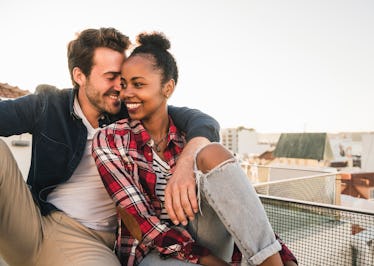 4 Romantic Ways To Fall More In Love With Your Partner Every Day
Westend61/Westend61/Getty Images
There's a reason why fairy tales usually end in "happily ever after." In reality, life and love aren't always that tidy. Most relationships will probably face challenges that can test the bond between partners, especially if a couple has been together long after the honeymoon phase has ended. But even if you face hard times together, you can still fall more in love with your partner every day. It is possible to grow as individuals and grow your love at the same time, which can ultimately help you strengthen your bond and face the aforementioned challenges as a team. Deepening and improving your connection starts by simply having the right frame of mind.
"Gratitude and appreciation are like water and sunlight for the garden of a healthy, enduring relationship," Lisa Concepcion, certified dating and relationship expert and founder of LoveQuest Coaching, tells Elite Daily. "The more you focus on what you love and appreciate about your partner, the more of those qualities (plus others) you'll evoke from your partner. Also, when you offer feedback from a place of love and not judgment and practice unconditional love of yourself, you'll strengthen the love in your relationship."
Here's what two relationship experts suggest when it comes to helping the connection and affection between you and your partner grow, even when it feels hard as hell.