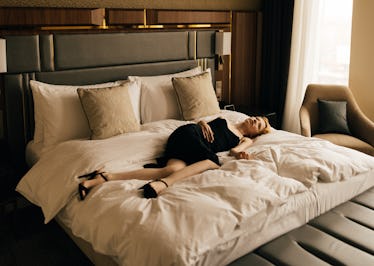 4 Tips For Coping With Relationship Drama, Because Everybody Goes Through It
Relationship drama is really only fun when it's on TV (and then it's insanely fun — is everybody else watching The Bold Type? Or truly any show?). It can be tough when it's your own relationship, though, or the relationships of your friends. It's completely normal to have ups and downs when you're dating someone, and it doesn't mean your relationship isn't going to work out. Still, you shouldn't have to deal with too much drama, so I came up with some tips for coping with relationship drama. You deserve a relationship as drama-free as possible, so I'm happy to help source some strategies.
Not all drama has to stress you out — a lot of relationship drama can be resolved via communication. Of course, you may encounter drama that makes you want to end a relationship, and that's totally fine, too — it's up to you. No one else can tell you when you should or should not end a relationship — not even me, and there's really very little I won't give advice on. If you can work through the drama and get to a place that makes you happy in the relationship, then you've survived relationship drama, and you, too, deserve a show on Freeform.
Read on to find four tips for how to cope with relationship drama, because it does happen to all of us.