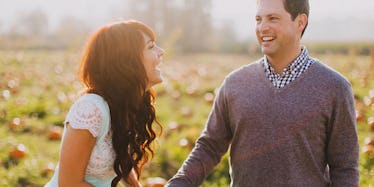 4 Bride-Approved Tips For Posting Your Engagement Announcement On Instagram
Sharing a wedding announcement on social media is a surefire way to get likes. People who rarely post on social media can garner over 1,000 likes from an engagement post. Mazel tov on the engagement, but really, congrats on the likes (kidding – sort of). There must be something in the air (cloud?) when a couple shares their special moment together. Maybe we're all just nosy for details, or just plain excited for the couple to share their lives together. Since I've never been engaged, I sought out some tips for announcing your engagement on Instagram from women who have done it themselves. If you're getting engaged soon, their advice can help you make the most of the moment.
Their strategies varied from posting a photo in the moment to posting a throwback picture in which the caption announces the engagement. Some recommended that you alert the close people in your life before sharing on social media, and others suggested that you don't overthink the caption. What each of these women did worked for them and their fiancés, and maybe it'll help you figure out what you want to do, too. Anyway, on to the advice from the fiancées and wives.