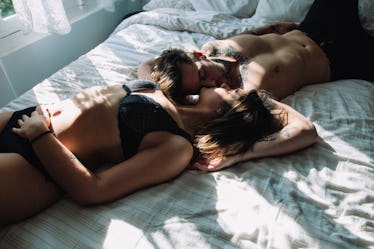 4 Sex Moves You Need To Try This Spring For Your Steamiest Season Ever
It may not feel like it right now, but it is technically spring. That's right, the season of mating is upon us. It's time to do what bunnies do, if you know what I mean. (Ingrid Michaelson gets it.) It might be difficult to get into the spirit of spring while there's still snow on the ground, but believe it or not, warmer weather is coming. It just needs a little coaxing. As the temperature slowly but surely begins to rise, help welcome the season with these four spring sex positions.
The fact that it's still chilly outside shouldn't stop you and your partner from getting hot and heavy in the bedroom. You need to stay warm somehow, after all. Even if you're out of college, spring break is forever. So channel Spring Breakers and break out your wild side. To help put a little spring in your step, these four moves are all appropriate for warm weather. Just try not to break the boxspring with all that bouncing around. And if you think I'm done making spring puns, think again. I'm pretty sure I can keep going until summer, so spring it on!