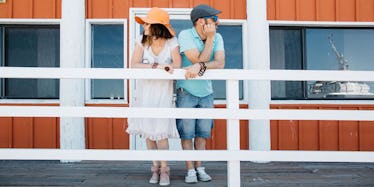 4 Subtle Signs You're Not Ready To Be Exclusive With The Person You're Dating
As someone who doesn't fully get how casually dating multiple people is a thing – I'm pretty much all in or all out and have basically zero sense of chill and need a good amount of alone time on top of going out – I know that there are real benefits to having an extra-full social life. Dating multiple people at once can help you get to know faster what exactly you do and don't like in a partner. And on top of that, dating multiple people could reveal signs you're not ready to be exclusive.
Chris Armstrong, relationship coach and owner of Maze of Love, has a theory that what most people want from an exclusive relationship is comprised of three things that make a "pie": physical, intellectual, and emotional intimacy. But, he says, sometimes you can find "pie" from separate people. Each person can fulfill you in a different way.
Samantha Burns, relationship coach and author of Breaking Up & Bouncing Back, also offered her own insight on how to tell if you're ready or not to make it official with the person you're dating. Read on to see what the two experts had to say.