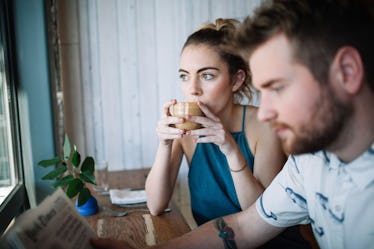 4 Signs You Jumped Into A New Relationship Too Quickly & You're Not Over Your Last Breakup
If you've ever tried to get over a breakup by quickly moving on to a new boo right away, you've probably learned the hard way that this tactic rarely works. Rather than skipping over the whole mourning process, you actually just pushed it down a little deeper, where it doesn't go away so much as stick around, unresolved. Plus, now you've brought another person into the mix. It's a bummer, but knowing the signs you jumped into a relationship too quickly might be able to help you avoid making the same mistake twice.
If all this is sounding uncomfortably familiar, well, let's just say I definitely get it, because I've been there myself. After breaking up with my first love, I immediately jumped into a new relationship. I went through all the motions of being with them, but my heart was just never really in it. As you can guess, it fizzled quickly and painfully for everyone involved. In the end, I was dealing with the pain and guilt of two breakups. So while at first it may seem like you've outsmarted a whole breakup system, slowly but surely, those unresolved feelings will start to creep in and express themselves — often without you even realizing it's happening. If you suspect you're in that situation, but aren't totally sure yet, experts say there are clear signs to look out for that will confirm you've moved on too quickly. Here's how they say you'll know if you're still not over your ex — and what to do about it.