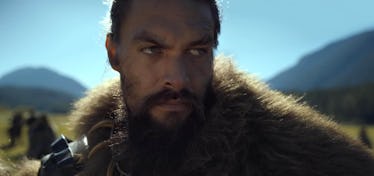 Here Are All The Shows Coming On Nov. 1 To Apple TV+ That'll Have You Signing Up ASAP
Apple
If it's the beginning of September, so it must be time for Apple to present to the world the latest iPhone. Though the company has multiple presentations a year, the September one is usually geared towards the upcoming holiday shopping season. But this year, there were other announcements, as Apple TV+ will also arrive in time for the holidays. The new streaming service arrives Nov. 1, 2019, and will feature brand new original series. These shows dropping on Apple TV+ may convince you it's worth signing up.
When the service launches on Nov. 1, Apple will have a handful of high-end prestige TV-style shows that will arrive with it. The most hyped so far is The Morning Show, the Reese Witherspoon-Jennifer Aniston drama set behind the scenes at a broadcast network's morning program, after the male anchor is fired due to sexual misconduct. But that's only the beginning of Apple's offerings when the service launches.
Along with The Morning Show, there will be a piece focused on Emily Dickinson, but not the way you would think. There's See, the post-apocalyptic science fiction series where humans have lost their sight. And there's an alternate history show focusing on the race to the moon, called For All Mankind.