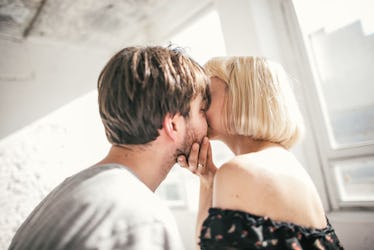 Try These 4 Sex Moves On A Chill Weekend Afternoon
Does it seem like everyday, life is getting busier and busier? Is it harder and harder to carve out intimacy for you and your partner between work, various personal projects, and your social life? If that sounds frustratingly familiar, it's probably time to start taking a breather and designate one weekend afternoon to just chilling out with your partner and getting some low pressure, slow-paced, special time together — in bed — and maybe even try out a few new sex moves to try on weekend afternoons. Because, let's be honest, you and bae deserve it.
Not only is this a great way to connect with the person you love, but there's just something so refreshing and satisfying about having some time dedicated to just relaxing and taking your time with one another. Sure, those moments when you're full of passion and want to tear each other's clothes off are super hot, but the anticipation that builds when you take your time and there's no reason to rush can be even hotter. Think of all the things you've always wanted to try with each other but you just didn't have the time to explore and experiment. That's exactly what chill afternoon sex seshes are all about. If you're not sure where to start, no worries, because I've got some ideas to kickstart your imaginations and libidos this weekend.