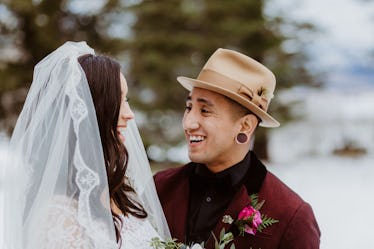 Winter Weddings Are So Underrated, But Here Are 4 Reasons They're Right For You
If you're daydreaming about your ideal wedding or actually beginning to plan your big day, one of the first things to consider is when to get married. In fact, that's probably one of the first questions your friends and family ask after learning that you're engaged! Everyone wants to save the date and make their travel arrangements with time to spare, so choosing a date is probably one of your first priorities. Maybe you've always wanted a spring wedding, or love a fall color palette, but there are plenty of compelling reasons to have a winter wedding that you and your spouse-to-be could consider.
According to Weddingwire.com, the most popular months to get married are October, September, June, May, and August, in that order. This is likely because the weather is warmer, these are popular times to take a vacation, and a there are also lot of three-day weekends during these months. But there's a great case to be made for getting married in the "off-season," which typically runs from December to March. Interestingly, WeddingWire.com also finds the least popular month to get married is January, most likely due to the fact that an outdoor wedding might not be feasible, depending on your local climate. But there are real upsides to a winter wedding, like potentially more affordable and available vendors, fewer scheduling conflicts, and a totally unforgettable day.