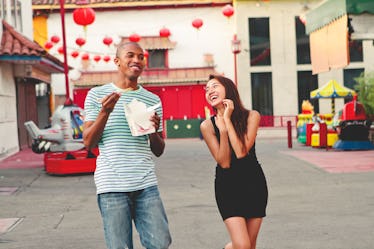 You Should Never Feel Ashamed To Ask These 4 Important Questions On A First Date
First dates can be really awkward — that's not just me, right? You want to make a good impression, for the conversation to flow naturally, and maybe even make a connection. But that can be a lot of pressure to put on one cup of coffee. According to experts, you should ask questions on a first date that will help make it go smoothly, but they warn against turning it into a job interview. If you're not sure what that means, fret not. There are questions you shouldn't feel ashamed to ask on a date that experts say make for great conversation starters, but can also tell you a lot about someone.
The key to these questions is that they invite people to open up so that you can get to know them better without them feeling like you're prying or being invasive. No one wants to feel like they're being interrogated on a first date — or any date, for that matter, really. To help put together a list of solid and illuminating first date questions, I reached out to dating experts for their advice. Here's what questions they say are not off limits on a first date, and can actually help you two get to know each other better.