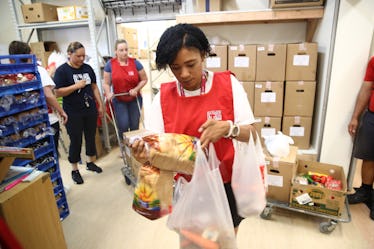 Here's How You Can Volunteer This Christmas To Make The Holiday Merry
Phil Walter/Getty Images News/Getty Images
The holiday season is a flurry of catching up with friends and family, shopping, and end of year work responsibilities. But for many, there is far more to worry about — like having a comfortable place to stay, finding a meal, or staying warm in the bitter cold. There is a lot of philanthropic work to be done during the holidays, and there are plenty of places to volunteer this Christmas. Your break from school or time off from work is the perfect opportunity to give back.
There are so many places that need help, and it can be difficult to figure out which organizations to get involved with. We've rounded up a few of the many places looking for an extra set of hands this holiday season. Keep in mind that most organizations see an influx of volunteers around this time, so be sure to call ahead and see when the best time for you to volunteer is, and what kind of service they're looking for.
1. Meal Programs
Offering your time at a meal program (sometimes referred to as a "soup kitchen") is a great way to help in the fight against hunger. These programs serve large amounts of food at a time, and need to do so efficiently to ensure that everyone they're serving gets an equal and hot meal. With this work comes the responsibility of preparing, cooking, serving, and cleaning up after meals, so an extra set of hands is always useful. This also gives you the opportunity to interact directly with the people you are serving and truly see the difference that your time is making.
2. Food Banks
On a similar note, food banks need assistance, as well. They store large amounts of non-perishable foods that are then distributed to a variety of member organizations. Food sorting is a great way to get involved. Another option is to offer up bookkeeping or IT skills, to help keep things running smoothly. Food banks require a lot of organization to ensure that beneficiaries are being served properly. If you'd like to donate to one, consider donating money rather than food. While food donations are always welcome, monetary donations allow the staff to utilize their buying power to use the funds most effectively.
3. Shelters For People Experiencing Homelessness
There are a variety of jobs and tasks to be done at shelters for those dealing with homelessness. You might serve food, answer phones, or clean. Find out what your local shelter needs and go from there. One of the most important things you can do at a shelter is simply interact with the people who are staying there. Often, those experiencing homelessness are ignored or berated by society, and this takes a serious mental toll. Offering up your time and treating these people with dignity and respect is a simple way to let them know that they are not alone and that there is hope.
4. Retirement Homes
Retirement homes typically have a large staff of nurses and other professionals who assist the elderly with the necessary tasks of eating, taking medication, and bathing. What they are often missing, though, are volunteers to spend time with their residents and offer comfort and mental stimulation. You might be asked to facilitate activities, participate in them, or just visit with residents. If you have a pet that is relaxed and friendly, you might consider bringing them along to brighten up everyone's day. Just check to see what the retirement home's policy is and if your pet needs to be registered.
Other Ways To Help
Even if you can't make it out somewhere to volunteer, there are plenty of ways you can make a difference this holiday season. You can call up your hospital's pediatric unit and see how many patients they have, and make cards for all of them (this is a great way to get friends and family involved, too). Cleaning out your closet and donating old clothes — particularly winter coats, gloves, scarves, and hats — is also a good idea. Same goes for gently used sheets or blankets. If you have some baking skills (or Nestle Tollhouse cookies), whip up some treats and drop them off at your local fire department or emergency room. These services don't stop during the holidays, and this is a great way to show your appreciation.
However you choose to give back, someone out there will be better off because of your efforts. Remember, all of these places need help year-round. The holiday season can be a good introduction to an organization you might want to get involved with long-term.
Check out the entire Gen Why series and other videos on Facebook and the Bustle app across Apple TV, Roku, and Amazon Fire TV.