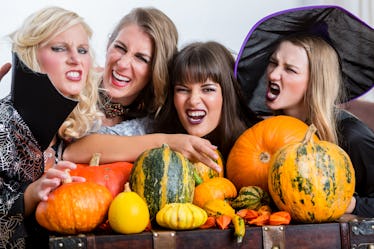 8 Costume Ideas For 4 People That The Whole Squad Will Actually Agree On
Remember when your parents would tell you that you could be anything that you wanted to be? Well, Halloween literally says the same thing to us every year. And if you're feeling super festive, you and a few of your friends are ready to coordinate. Yes, four-person Halloween costumes seem like a bit of a challenge, but there have definitely been way more complicated things accomplished in the Guinness World Records.
So, relax and try to think of things you probably encounter almost every day or have in the past, that would involve four moving parts. Halloween is the time to depict whatever you want, no matter how simple or complex it may be. That is what's so awesome about the spookiest day of the year. The good thing about having a four person Halloween costume is that you won't be alone in fully bringing the costume to life. You'll have some help.
It's a group effort, so get everybody's input, and go from there. Make sure it's something you can all move around in, because synchronized costumes mean breaking out some synchronized dance moves, right? If you need some ideas on how to successfully pull off a costume with four friends, look at how these other people nailed it.