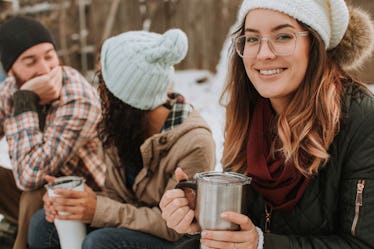 4 Personality Types Who Make The Best Matchmakers, So Trust Their Setups
While dating apps are convenient and meeting people at parties and bars can be a lot of fun, I'm still a true believer in the good old-fashioned setup when it comes to meeting someone really great. For one thing, the person comes pre-vetted by trusted friends, and if things go well, you know they're going to fit right in with your social circle — a major bonus. But if I'm totally honest, it's also because I love to play matchmaker. I am an INFJ ("The Advocate"), one of the Myers-Briggs personality types who make the best matchmakers, so really, I just can't help myself. Not sure what your personality type is? You can take the test here.
While anyone can play matchmaker effectively regardless of their personality type, there are a few types who are more inclined to want to play that role, and who might posses the natural skills that make them more likely to recognize compatible love matches. Whether that's because they're excited and engaged with the idea of finding love for others, or they're just naturally in-tune to what makes a couple a good match. The point is, if your friend happens to be one of these personality types, take note. Or maybe you find yourself constantly playing matchmaker to your friends and loved ones. In that case, chances are you're one of these Myers-Briggs personality types.