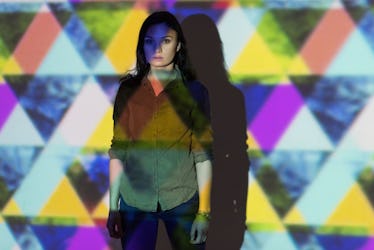 If You're Always Pessimistic About Relationships, You're Probably One Of These 4 Zodiac Signs
Is your nickname Debbie Downer? Are you never surprised when someone lets you down? Do you punctuate every sentence with a mental sigh? Is each and every glass you've ever encountered half empty? Well then, chances are your attitude isn't your fault, you just happen to be one of the most pessimistic zodiac signs.
Listen, I get it. My sign, Virgo, is on this list and we can be real bummers when we get caught in one of our negative thought loops. And all that negativity can make relationships tough. But not everyone was born wearing rose-colored glasses, all right? Some of us just see the world in a shade of blue, and that's OK. Not everyone was meant to be super upbeat like a Leo or forever the optimist like an Aries. Someone has to expect the worst, and we're just the signs for the job.
Some of these signs get their gift of pessimism (yes, I said gift) because they are extremely observant and critical, while other just have a soft and sensitive heart that protects itself by assuming the worst and being happily surprised when they're wrong, and they actually meet someone amazing. Does that sound familiar? Then prepare to feel validated, because these are the signs that are least likely to see the silver lining when it comes to love.