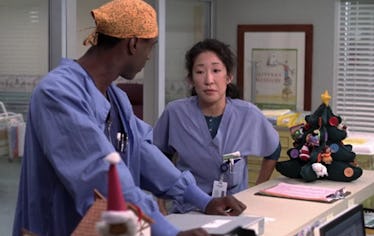 4 'Grey's Anatomy' Holiday Episodes To Watch With Your Person
Grey's Anatomy/Netflix
With 14 seasons of Grey's Anatomy, the series has covered many a holiday season over the years. The soapy show about surgeons is filled with dark, gory moments (as any good medical drama is), but it also has its fair share of moments that celebrate friendship, romance, and family. If you're in the mood for some dark and twisty Christmas feelings, all you need are these four Grey's Anatomy holiday episodes to watch with your person.
Not only is Grey's Anatomy filled with big holiday feelings, but the series' Seattle setting also makes for perfect cozy Christmas viewing. Maybe it's just me, but there's nothing quite like the Christmas-y feeling of knowing it's grey, cold, and gloomy outside, but warm and filled with light inside. Nowhere else captures that feeling quite like the Pacific Northwest, which is why Grey's Anatomy is absolutely perfect for the Christmas season.
So grab your person, a big snuggly blanket, and maybe a bottle of tequila as you settle in for the only Grey's holiday marathon you need. Oh, you might want to grab a box of tissues too. This is a Christmas marathon only for those who like a few sobs thrown in with their "ho ho ho's."