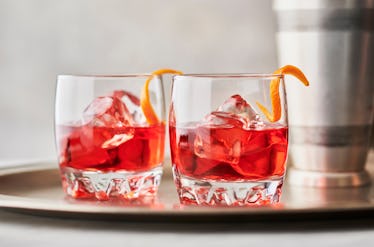 5 Easy Cocktails To Make On Date Night That Don't Require Major Bartending Skills
I imagine that — excluding professionals — there are more great cooks in the U.S. than great at-home bartenders. I could name at least five friends who I believe make consistently excellent food, but I could only name two friends that I feel confident letting make me a Tito's-soda, let alone an Old Fashioned or other trendy craft cocktail. Many people grow up learning to cook, but not everyone bartends in college. (And if you did, you were probably slinging Bud Lights.) The good news? Some cocktails are easy to make at home, so you can have a boozy date night without the trumped-up bar tab.
The thing about a good cocktail is that it is a very difficult final product to achieve. Beyond determining the proper ratios of spirit to liqueur to mixer, the best cocktails require many bespoke and somewhat hard to come by ingredients. I rarely order cocktails out at bars, unless I happen to be at a bar I know well, where the end justifies the $17 price tag. So if you are planning a date night at home and you'd like to concoct a not-so-tricky cocktail for your partner, where should you start? Is there a crockpot of home drinking? Here are four ideas for you and your date to try next time you feel like staying in:
1. A Gimlet
It sounds fancy, but it's totally not. A gimlet seems sophisticated, like it belongs in West Egg, but I promise it's quite simple to make at home. A gimlet can be made with ingredients you could grab last minute at a local bodega. Originally made with Rose's lime juice (which you can find at your local liquor store when you pick up your London dry gin), the modern gimlet can also be made with real lime juice and simple syrup. Fill a shaker with ice, and add two-and-a-half ounces of gin, half an ounce of fresh lime juice, and half an ounce of simple syrup (equal parts sugar dissolved in water in a sauce pan). Shake, strain into a glass, and garnish with a wedge of lime.
2. A Negroni
Not unlike to the gimlet, this cocktail sounds more involved than it actually is. The ingredients you'll need to make a negroni are Campari, gin, and sweet vermouth (like Martini Rosso). Oh, and add an orange peel for flavor and to complete the color scheme of the Italian beverage.
You can easily find all of the requisite booze at a liquor store, and Campari is a great apéritif to keep in your apartment for summer gatherings. (Honestly tastes great with soda water, like an Aperol spritz.) All you need to do is pour one ounce of gin, one ounce of Campari, and one ounce of sweet vermouth over ice in a glass and stir, adding the orange peel (or slice, if you prefer) directly into the drink. Then sit back and pretend you're on vacation in Florence, because you can dream, you know?
3. A Margarita
Making a great margarita is forever my party trick, and I implore you not to buy strange mixes and actually squeeze some limes if you're going to go for this simple margarita recipe. All you need is a solid silver tequila. I prefer Casamigos for margaritas (shout out to George Clooney for making an actually great product). To get started, buy a sack of fresh limes, cut them into halves, and squeeze them.
Margaritas are best made in batches, so pour one cup of fresh lime juice, one cup of tequila, and a quarter cup to a half cup of agave syrup. Shake well, adding and adjusting ingredients for taste, and pour over ice. Salt your glass rims ahead of time, and garnish with a lime. These go GREAT with tacos!
4. A Dark 'n Stormy
If you are going to make a Dark 'n Stormy, you should make it with the only ingredients that matter: Gosling's Bermuda Dark Rum and Gosling's ginger beer. The original and official ingredients of this refreshing cocktail, stick to Gosling's when you hit the liquor store in preparation for your date night. You'll also need to pick up a few limes, and make sure you have plenty of ice on hand.
Fill a glass with ice, then add three-quarters of an ounce of lime juice. Then, add four ounces of ginger beer and two ounces of rum, and stir. Add a nautical straw and your cocktail is complete. Easy AF! Go forth and get a little bit toasted with your cutie at home this weekend. After you attempt one of these recipes, you'll feel accomplished — and a little bit buzzed.
Check out the entire Gen Why series and other videos on Facebook and the Bustle app across Apple TV, Roku, and Amazon Fire TV.
Check out the "Best of Elite Daily" stream in the Bustle App for more stories just like this!