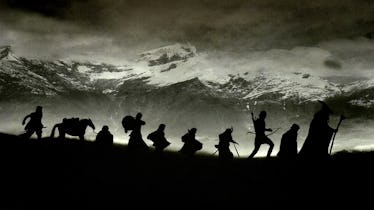 4 Details About The 'Lord Of The Rings' Amazon Series That Will Make Fans So Excited
New Line Cinema
When someone writes a book about the years 2010-2019, they'll entitle it The Fantasy Decade. Starting with the final two movies of Harry Potter, this decade has seen the rise of Game of Thrones on TV and all the series the success of it spawned. Marvel's The Avengers and all their accompanying films, now rounding to their 20th, has dominated the box office. But the climax seems to be the upcoming Lord of the Rings reboot. Details about the Lord Of The Rings Amazon series arrived this week via a deep dive by The Hollywood Reporter which runs down the particulars of the deal.
In mid-2017, then CEO of Amazon Studios Roy Price told Variety that Jeff Bezos was unhappy with how their series were performing. The streaming service, which had been considered Netflix main competitor, had just seen their spot usurped by Hulu and The Handmaid's Tale, which swept the Emmys, including becoming the first streaming service to win Best Drama. Amazon, meanwhile, was still struggling to produce anything worthy of the Awards circuit. The mandate: "Bring Me Game of Thrones."
By November, Amazon had gone on to beat Netflix for the rights to Lord of the Rings in an unprecedented deal where they paid $250 million for the rights to make a TV show. That's a quarter of a billion dollars just for the right to make the show. No actors, no directors, no producers, no script, no set, nothing attached. Each of those will have to be paid for separately. And yet, with Bezos at the helm (he was rumored to have closed the deal personally) Amazon seems confident they've landed what will be the most successful show they've ever produced.