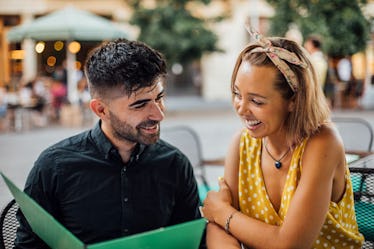 4 Dating Behaviors That Might Mean Someone's Ready For Marriage
Dating can be a lot of fun, especially when it's casual and you're just looking to have a good time. However, when you start looking for something more serious, or if you're looking for "the one" to settle down with, dating folks who aren't on the same page as you can be frustrating, because it can make you feel like you're wasting your time. This is why understanding someone's intentions by recognizing the dating behaviors that mean someone's ready for marriage can save you a lot of time, energy, and heartbreak.
But are a person's intentions something you can really tell just from how they behave on a date? According to Susan Winter, a NYC relationship expert, love coach, and author of Breakup Triage: The Cure for Heartache, the answer is, surprisingly, yes. That's because, as she explains, there are some signs that can indicate that your date is likely on the same page as you if you're looking to settle down. The same is true of red flags that mean they aren't ready to settle down just yet. "When a person is finally ready for marriage, they approach dating far differently than those who're treading water," Winter tells Elite Daily. So, if you're ready to find someone to settle down with, these are the dating behaviors you might want to be on the lookout for.