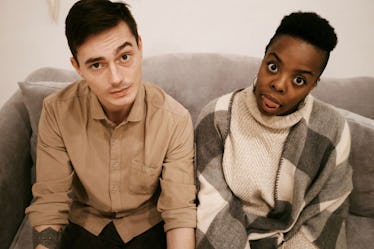 Here's How To Deal With The Common Ways Your Live-In Partner Might Annoy You
Moving in together can be a big, exciting step in any relationship. It's both a declaration that you want to share your lives with one another, and a test to determine if the two of you really are a good fit. And while moving in together can be something to look forward to, it can also come with some serious low-key stress. That being said, having an idea of how some of the common issues after moving in with a partner can affect your relationship might be able to help you make sure you're able to work through them.
If you're already living with someone, chances are you've already discovered how easy it is to annoy each other. But don't worry, Lisa Concepcion, certified dating and relationship expert and founder of LoveQuest Coaching, tells Elite Daily it's totally normal. "This is not only common, but to be expected. Even if you've gone on vacation together or spent weekends at each other's homes, there's something different about actually living together. We see everything about the person, all of their idiosyncrasies," says Concepcion.
Dr. Gary Brown, a prominent couples' therapist in Los Angeles, agrees. "When people move in together, any number of scenarios may present in ways that are annoying," he tells Elite Daily. "This is true and common, even in the very best of relationships. Assuming that you are living together with the idea that you both may want to explore a long-term relationship, it is important to learn ways to deal with the inevitable differences and conflicts that you will encounter. It is important to understand that a partner can get on your nerves and you can still love one another." Here is how the experts say to do just that.