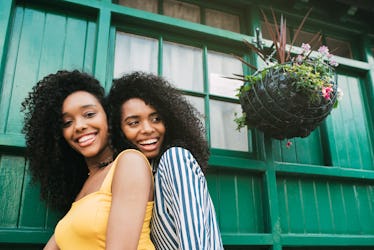 4 Budget-Friendly First Anniversary Date Ideas, Because Love Don't Cost A Thing
You made it! You and your partner are approaching your first anniversary and that is a milestone worth celebrating! While some people prefer to keep anniversaries low-key, others would rather throw a parade for their partner. If you're on a budget — hi! same! — but you still want to show your honey that they mean the world to you, consider these cheap first anniversary date and gift ideas. While some people might say special occasions are a time to ball out, remember that it's truly the thought that counts — and living within your means and maintaining your financial solvency is very attractive. A great gift doesn't have to be expensive, and sometimes an experience that you can share with your honey can turn out to be priceless.
If you and your partner have been dating for a year, it's likely that you're pretty much on the same page about a lot of things. That being said, it's still a great idea to have a conversation with them about what their expectations and hopes are for the big day. Once you agree on what you'd like to do, consider also setting a price range for gifts so that one person doesn't completely outspend the other. That could be awkward. When all is said and done, it's truly the thought that counts, so these first anniversary date and gift ideas are experience-based and (hopefully) super fun.