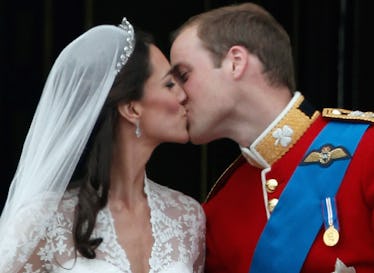 4 Books You Need To Read If You're Obsessed With The Royal Wedding
Christopher Furlong/Getty Images Entertainment/Getty Images
Seven years ago, I bought out all of the "scones" Starbucks had to offer, decorated white t-shirts with puffy paint that read "I <3 Will & Kate," and woke up at 4:30 a.m. to watch the Duke and Duchess of Cambridge exchange vows on their wedding day. Needless to say, royal weddings are a pretty big deal in my book, and I'm as excited for Harry and Meghan's impending nuptials as I was for William and Kate's back in 2011. If you're also counting down to the Big Day (it's May 19, BTW!), these books about royal weddings might help tide you over in the interim.
Honestly, even if you're not wake-up-at-4-a.m. hyped about Prince Harry and Meghan Markle tying the knot, now that spring has sprung, wedding season is upon us, love is undeniably in the air, and there's no better time to pop onto a park bench and dive into the literary worlds of romance and monarchs. Am I right?
From (mostly) true accounts of real-life royals' marriages to schoolgirl crushes and sumptuous affairs, each of these four books is sure to pique your interest and pull you in. Who really needs to study for finals, anyway? Let's call this your required reading from now through the end of May.
The Royal We by Heather Cocks & Jessica Morgan
Not unlike Meghan Markle and Prince Harry's romance, this novel follows the story of a young American who falls in love with a charming English prince.
American Bex Porter's looking for adventure, not a fairytale wedding, when she moves to Oxford for a year abroad. But, in a magical twist of fate, she finds herself living across the hall from an ever-charming, and and ever-complicated, prince named Nick. Oh, and did I mention that there also happens to be a younger, feistier ginger (ginger!) prince named Freddie who will sure to steal your heart as quickly as Harry stole Meghan's.
It's full of drama, heart, and laugh out loud moments that are sure to have you fervently flipping through pages until you reach the end.
Royals by Rachel Hawkins
This beach-read-daydream of a novel by Rachel Hawkins is another perfect tale of American-British romance, but with a bit of a twist. It follows 16-year-old Daisy — whose sister Ellie is nearly set to marry the Crown Prince of Scotland — as she strives to learn the ropes of her Ellie's impending royalty (with the help of the raucous and undeniably endearing Miles).
Think Mia Thermopolis meets Pippa Middleton, dotted with romance and scandal for good measure.
Bustle called it, "the YA book you need to read before the royal wedding," and I wholeheartedly agree.
Royal Weddings by Meg Cabot
Speaking of Mia Thermopolis, meet Royal Weddings by Meg Cabot — the first adult installment in the perpetually wonderful Princess Diaries series.
The story picks up with a very busy Princess Mia — living in New York City, balancing royal and community engagements with her blossoming love life. But just after her adorable boyfriend pops the question, everything starts to unravel. Royal secrets, fake wedding plans, and Mia's general penchant for accidentally finding trouble leave the bride-to-be with a royal mess on her hands.
It's the perfect story for fans of The Princess Diaries and royal weddings alike.
Notorious Royal Marriages by Leslie Carroll
Last but not least, Notorious Royal Weddings: A Juicy Journey Through Nine Centuries of Dynasty, Destiny, and Desire offers readers exactly what it sounds like: A deep dive into the real-life drama of past monarchs' marriages (and torrid affairs). It's the kind of history book I wish I could have studied in high school, and every bit as juicy as the title promises.
I dare you to finish all four before May 19, fellow royal wedding lovers! Race you to it.