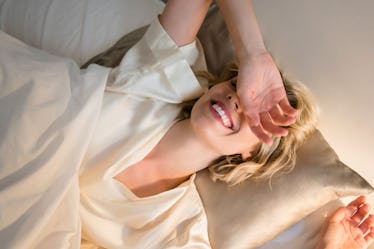 Experts Say These 4 Perks Of A Morning Routine Are Worth Waking Up Early For
What's the first thing you do when you wake up in the morning? Do you sit up and stare at the wall, willing the clock to tell you it's 7 p.m., not a.m.? Do you give yourself time to enjoy little things like coffee or a good stretch, or are you out the door within 10 minutes of waking up? It might not seem like what you do when you wake up in the morning matters that much, but in reality, the benefits of a morning routine are powerful enough to make a huge difference in how the rest of your day goes.
Now, I know some people might cringe or even roll their eyes at the mere thought of a morning routine. Like, who has the time, the patience, the energy, and why bother creating a routine when you can just sleep in a little longer? Well, according to fitness coach and healthy lifestyle entrepreneur Mandie Brice, establishing a morning routine gives you an opportunity to reflect on and prioritize your daily goals.
And, if the concept of a legit morning routine is fairly new to you, Brice suggests you start by asking yourself what you're hoping to accomplish most before you leave the house for the day, and what steps you can realistically take to guarantee things go smoothly from there. "Figure [that] out, and think about what makes the most sense as far as an order is concerned, and write it down," Brice tells Elite Daily over email.
Chances are, you'll start seeing benefits you didn't even expect, in no time at all.