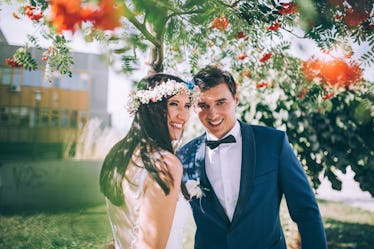 39 Punny Wedding Captions That'll Bring Even The Cake To Tiers
Getting ready for a wedding can be a bit hectic, but luckily, comic relief is here to make the special day that much more memorable. Think of how many memories are marked with uncontrollable laughter. Whether it's the best man's hilarious speech about college days spent with the groom, or the flower girl's attempt to steal the show with her cuteness, there's always room for some laughs. If you'd rather be the one who's making everyone at the wedding crack up, you'll want wedding puns for captions to pair with your candid pictures on the 'Gram. You may capture some golden shots not even the photographer will snap, so you might as well deliver the full package to your social media followers, am I right?
Even though the goal is for the entire day to run like a fairy tale, some things might not go according to plan. That's where you swoop in to save the day with some necessary comic relief. Those happy vibes will be flowing once again in just about no time. All of the guests will hit up the dance floor and take full advantage of the open bar. That's when the real party starts, and any mishaps from the day will quickly become a thing of the past.
Comedy is a surefire way to get everyone loosened up and in the perfect mood to celebrate the happy couple. So, if you're ready to have some wedding fun, pair one of your pics with any of these punny captions.
1. "I cannoli be happy when I'm with you." — Unknown
2. "Eat, drink, and be married." — Unknown
3. "Mint to be." — Unknown
4. "No bunny compares to you." — Unknown
5. "Donut ever let me go." — Unknown
6. "It's been an emotional day, even the cake is in tiers." — Unknown
7. "What do you call a melon that's not allowed to get married? Can't elope." — Unknown
8. "You're getting meow-ied." — Unknown
9. "Don't go bacon my heart." — Unknown
10. "You mer-maid for each other." — Unknown
11. "Our love is in-tents." — Unknown
12. "And they lived apple-y ever after." — Unknown
13. "Whole latte love." — Unknown
14. "Words can not espresso how much you mean to me." — Unknown
15. "We make a nice pear." — Unknown
16. "Meow and forever." — Unknown
17. "For butter or worse, a toast to the lovely bride and groom." — Unknown
18. "You make me hap-pea." — Unknown
19. "I love you from my head tomatoes." — Unknown
20. "I love you like no otter." — Unknown
21. "You're my butter half." — Unknown
22. "Yoda best bride." — Unknown
23. "Life is gouda." — Unknown
24. "I love you pho real." — Unknown
25. "I love you berry much." — Unknown
26. "Owl always love you." — Unknown
27. "My heart beets for you." — Unknown
28. "We've got all the thyme in the world." — Unknown
29. "Did you hear about the two spiders who just got engaged? I hear they met on the web." — Unknown
30. "I'm whaley excited to marry you." — Unknown
31. "You're one in a melon." — Unknown
32. "I love you s'more everyday." — Unknown
33. "You're my significant otter." — Unknown
34. "Congratulations to the pear-fect couple." — Unknown
35. "Are you French? Because Eiffel for you." — Unknown
36. "This might sound cheesy, but you're really grate." — Unknown
37. "You've stolen a pizza my heart." — Unknown
38. "I'm soy into you." — Unknown
39. "You make miso happy." — Unknown
Whether it's your wedding day or your BFF's, try to keep things lighthearted and don't feed into any stress that might arise. It does mark the beginning of someone's happy ever after, after all.