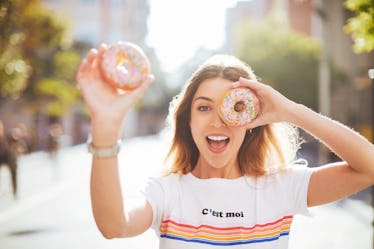 39 Instagram Captions For Donut Pics That Are The Sprinkles To Your Post
I've never met a person who didn't enjoy a good donut, and if I did, I'm not sure I would trust them. In my personal opinion, donuts are literally life itself. What's not to love about them? They're bright, incredibly sweet, and they're everything that's good about dessert time. Best of all, donuts are the perfect prop; they look amazing in every Instagram photo. So every once in a while, you're going to need to have some solid Instagram captions for donuts on hand.
If you're prone to snapping an artsy shot of your coffee and sprinkled donut, capturing the perfect angle of a cotton candy pink donut display, or holding two as googly eyes with your BFF, donuts are the perfect complement your picture (and, of course, your entire day is made within the first bite). A sweet treat makes even the worst day all the better, so consider this your sign from the universe. You deserve a donut (and a cute Instagram post) today.
Snap on, donut lovers — because this is the Instagram content that everyone wants to see. Show off your vibrant donut, your steaming cup of coffee, those vibrant sprinkles, and make sure to use one of these 39 captions to pair perfectly. A-dough-able, am I right?
1. "All you need is love and donuts."
2. "Donut ever give up."
3. "Donut worry. Be happy."
4. "Donut kill my vibes."
5. "Dare to be a donut in a world of plain bagels."
6. "Whatever sprinkles your donuts."
7. "In moments of doubt, trust your gut, hug your dog, and eat a donut."
8. "You can't buy happiness, but you can buy donuts and that's basically the same thing."
9. "Sprinkles are just glitter for food."
10. "Donut know what I'd do without you."
11. "Donut let anyone tell you you're less than incredible."
12. "I ate a donut without sprinkles... diets are hard."
13. "Eat more hole foods!"
14. "Oh, donut even."
15. "I run because I love my body. And donuts. I love donuts."
16. "Abs are cool, but have you ever tried donuts?"
17. "You drive me glazy."
18. "The center of a donut is 100 percent fat free."
19. "I love you more than donuts."
20. "I like you a (donut) hole lot."
21. "Life is short, eat more donuts."
22. "A donut is happiness with sprinkles on top."
23. "I got 99 donuts 'cause I already ate one."
24. "Donut you love the weekend."
25. "All you need is love and maybe a donut."
26. "You're the sprinkles on my donut."
27. "I'm just a girl standing in front of a salad, asking it to be a donut."
28. "The optimist sees the donut, the pessimist sees the hole." — Oscar Wilde
29. "Everything is better with donuts."
30. "I'd rather have a donut buddy rather than a workout buddy."
31. "Donut stop, get it, get it."
32. "You donut want to miss this!"
33. "Will bike for donut."
34. "People who love to eat are always the best people." — Julia Child
35. "A person does not live by coffee alone... have a donut!"
36. "Hold me closer, tiny donuts."
37. "Do or donut there is no try."
38. "You're right up there with unicorns and donuts."
39. "Donut disturb."
This article was originally published on