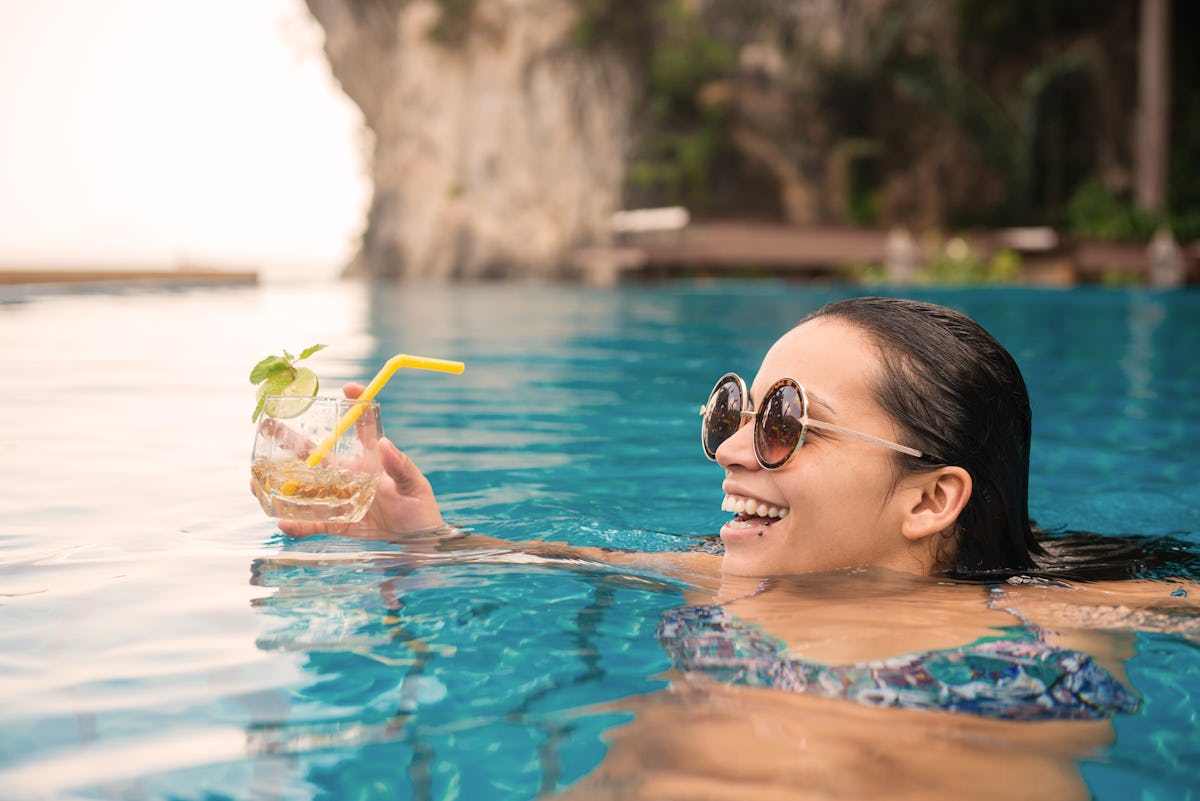 36 Clever Captions For Your Pool Pics, So Take A Dip & Get Double Clicks
You are about to spend countless hours by the pool, if you plan on doing summer the right way. You can't let that sunlight go to waste... or those cute swimsuits you spent all winter purchasing at bargain prices. That's why you need to be prepared with a lot of awesome captions for pool pictures. 'Cause if you laid out by the pool or got in a good swim session, and didn't put it on Instagram, did it really happen?
Pool floats were legit made for the 'gram, and you have every intention to float on them in pure bliss all season long. If you're really trying to press the "extra" button in the relaxation department, you'll have a matching pool float for your beverage, too. You know, because summer is meant for welcoming those "rosé all day" vibes with open arms (if you're 21 or over).
People like to laugh, so a witty caption paired with your laid-back pic create the perfect duo for anyone's Instagram feed. You'll obviously want to have a clutter-free mind for those chill pool days, so choose any of these pool captions for your pics before you float into your own little world.
1. "Summer is always good for lazy days."
2. "Do not disturb."
3. "We all float down here." — It
4. "Relaxed state of mind."
5. "Time is a pool to swim and dream and create in." — Jay Woodman
6. "It's just you and the pool."
7. "Too cool for school, but def not the pool."
8. "When you have the whole pool to yourself."
9. "Life is cool by the pool."
10. "My favorite part of the day is playing in the pool."
11. "Sorry, no lifeguard on duty."
12. "Floating into summer like..."
13. "If in doubt, swim on out."
14. "Happiness is all about making your own waves."
15. "Sunshine on my mind."
16. "Made for sunny days." — The Weepies, "I Was Made For Sunny Days"
17. "Home is where the pool is."
18. "I dream of summers that last forever."
19. "This is me before my epic cannonball."
20. "If you didn't splash, did a pool day even happen?"
21. "Water you doing this summer?"
22. "Enjoying my summer one splash at a time."
23. "Those splash spots were there before I got here."
24. "Swim your worries away."
25. "Some of the best memories are made in swimsuits."
26. "Summer, it has been way too long, my love."
27. "Can sitting by the pool be my day job already?"
28. "Life is better when you're swimming."
29. "Keep calm and swim on."
30. "Is that new perfume? No, that's chlorine."
31. "Anyone looking for someone to test out their pool? I'm available."
32. "Pretty sure I was a mermaid in my past life."
33. "Enjoy, relax, soak, and unwind."
34. "Every summer has a story."
35. "I could swim all day long if there were more hours to spare."
36. "I was mermaid for this."
This article was originally published on