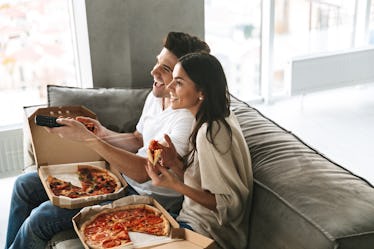 35 Super Bowl Captions That'll Make A Touchdown On Everyone's Feed
Shutterstock
We're ready for the countdown. It's officially less than a week until the Super Bowl. The anticipation is real, the team pride is strong, and the tensions are high. Some years, you may mostly be at the Super Bowl party for the buffalo chicken dip, the fun, the friends, and the family. But no matter if your favorite team is playing or not, you should be prepared with some epic Super Bowl Instagram captions for all the pictures you take.
You're probably going to snap some shots of the impressive spread you set up for all of your foodie friends. And of course, you can't forget to take a group picture of your squad decked out in either of the team's colors. Last but not least, a shot of the aftermath of the party — after your team has won, of course — is necessary.
Whatever picture you decide to post, you're going to need a great caption to pair with it. Whether you're looking for a quote that captures your confidence in your team (because winners never lose), celebrates your number one crew (the only squad you really need), or shows off your solid cooking skills, it just might be one of these 35 captions.
1. "Everything I do you know I do it for the squad." — Logic, "Flexicution"
2. "The bigger the dream, the more important the team."
3. "Strong alone. Unstoppable together." — Nike
4. "We can."
5. "Alone we can do so little; together we can do so much." — Helen Keller
6. "Guac-ing this Super Bowl party."
7. "Tough times don't last, tough teams do."
8. "Teamwork makes the dream work." — John C. Maxwell
9. "Find a way, not an excuse."
10. "If you want to go fast, go alone; but if you want to go far, go together." — African Proverb
11. "You're only as good as your team... and mine is great."
12. "I can't really see another squad tryna' cross us." — Drake, "No Tellin'"
13. "Today's forecast: 100% chance of winning."
14. "If you don't see yourself as a winner, then you cannot perform as a winner." — Zig Ziglar
15. "You were born to win, but to be a winner, you must plan to win, prepare to win, and expect to win." — Zig Ziglar
16. "Winning is a habit." — Vince Lombardi
17. "Winners don't wait for chances, they take them."
18. "Don't be afraid to dream big."
19. "Winners focus on winning. Losers focus on winners."
20. "Losers say what they'll do; winners do without saying."
21. "Winners never quit and quitters never win." — Vince Lombardi
22. "Don't wait for the opportunity, create it." — Debasish Mridha
23. "Sit with the winners. The conversation is different."
24. "Champions believe in themselves, even when no one else does."
25. "Eat like a Super Bowl champion today."
26. "I'm just here for the commercials."
27. "Football and beer is why I'm here."
28. "Hustle, hit, never quit."
29. "Champions train, losers complain."
30. "Don't run away from challenges, run over them."
31. "All I need is football and my dog."
32. "Don't keep calm — it's the Super Bowl."
33. "Family, friends, food, and football."
34. "Winning isn't everything — but wanting to win is." — Vince Lombardi
35. "Are you ready for some football?" — Hank Williams Jr.
This article was originally published on