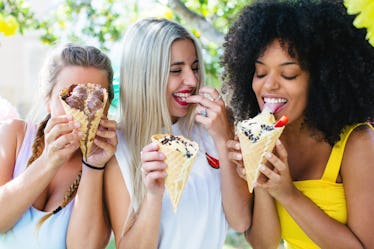 35 Puns For Labor Day Weekend, Because You'll Miss These Summer Vibes For Shore
Lock down those three-day weekend plans ASAP, because it'll be your last chance to soak up that glorious summer sun this year. The final holiday of the season means you should be at the lake or the beach, and eating your favorite BBQ food. Your days should be filled with many laughs, and Labor Day weekend puns will complement your pics on the 'Gram.
As bittersweet as it is to let go of all of that vitamin sea, you can't deny the good vibes this holiday entails. You get to chill on your avocado pool float, surround yourself with amazing people, and make good use of that beach house you all chipped in for. This last hoorah of summer 2018 is going to be another one of those top-notch moments you've had since June. You can't say you haven't been living your best life this season.
Hopefully, you haven't stowed away your bathing suits, sandals, and other summer essentials, because they're not quite done with you yet. If this is the last time you and you friends will have a chance to get together before you go back to college, you have to pack the works for your trip. Those Labor Day hashtags are important, but the pun is just beginning with any of these 35 captions.
1. "Sea you on the other tide." — Unknown
2. "Come out of your shell." — Unknown
3. "Make waves." — Unknown
4. "Don't get tide down." — Unknown
5. "Three-day weekend? Are you shore?" — Unknown
6. "I can sea clearly now." — Unknown
7. "Don't be all up in my grill." — Unknown
8. "Let's ketchup." — Unknown
9. "Don't try and stop me. I'm on a roll." — My Hot Dog
10. "Sun's out, puns out." — Unknown
11. "I plan to have a sofishsticated weekend." — Unknown
12. "Lettuce celebrate the summer." — Unknown
13. "Keeping it reel at the lake." — Unknown
14. "It's a bit lake to start now." — Unknown
15. "Let me get sun more of that vitamin D." — Unknown
16. "Adios, beaches." — Unknown
17. "The beach means you relax and don't move a mussel." — Unknown
18. "Bun voyage to this hamburger I'm about to eat." — Unknown
19. "Fun times are certainly a shore thing." — Unknown
20. "Seek to sea more." — Unknown
21. "Water you up to this lovely Labor Day weekend?" — Unknown
22. "I otter get into the water." — Unknown
23. "Send me s'more summer vibes." — Unknown
24. "Summer's ending, but omelette that slide." — Unknown
25. "Beach weekend with my friends. Whale catch you later." — Unknown
26. "Cheesy hamburgers are so grate." — Unknown
27. "Don't disturb this resting beach face." — Unknown
28. "Hey BBQ, nice to meat you." — Unknown
29. "I'm on the grill. Frank you very much." — Unknown
30. "I've found the chosen bun." — My Burger
31. "Last barbecue of the summer. I mustard seen it coming." — Unknown
32. "We're at the beach. Stop squiding around." — Unknown
33. "The ocean will always be fresh to depth." — Unknown
34. "The lake cod make the best summer moments." — Unknown
35. "Don't heat the player; heat the game." — Summer
Spark up the grill, fill up your cooler, and wear flip flops for one last summer shindig. Labor Day weekend will be here and gone before you know it, so make the most of it.