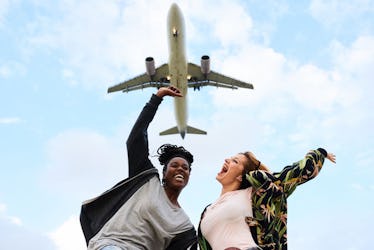 33 Clever IG Captions For Traveling Pics On Your Next Adventure
Everyone needs a bit of wanderlust in their life. If daydreaming about jetting off to a tropical oasis isn't enough to make you pack your bags right now, then seeing pics of other people's travels on the 'Gram will make you want to get your passport stamped immediately. Wandering this big world is all in good fun, and having clever Instagram captions for traveling pics will come in handy when you're on your next adventure.
Taking pics is a must when you're traveling. (If you don't, did it even happen?) Even if you aren't sharing every second of every day with your followers, you have to give them a sneak peak while you are living your best life on the sand. Of course, leave some time to really unplug and take in your new environment. Those views will give you all the butterflies, and they require your undivided attention.
Clever captions can also be useful if you encountered a minor (yet hilarious) fiasco during your journey there. Yeah, the struggles can be real, but in the end, you and your besties will laugh about them. No matter what mood you're in during your travels (although you'll likely be ecstatic), any of these captions will cleverly supply your followers with good vibes.
1. "I do believe it's time for another adventure." — Unknown
2. "Take me anywhere." — Unknown
3. "I don't know where I'm going, but I'm going. You coming?" — Unknown
4. "Born to roam everywhere and home." — Unknown
5. "I haven't been everywhere, but it's on my list." — Susan Sontag
6. "What is life but one grand adventure." — Unknown
7. "If it scares you, it might be a good thing to try." — Seth Godin
8. "We are all explorers trying to find ourselves." — Unknown
9. "It feels good to be lost in the right direction." — Unknown
10. "We have nothing to lose and the world to see." — Unknown
11. "If travel was free, you'd never see me again." — Unknown
12. "Don't call it a dream. Call it a plan." — Unknown
13. "I'm not lost. I am exploring." — Jana Stanfield
14. "Travel far enough you meet yourself." — David Mitchell
15. "I've got a crush on the world." — Unknown
16. "Live your life by a compass, not a clock." — Unknown
17. "No matter where you go, there you are." — Buckaroo Banzai
18. "You can find me where the music meets the ocean." — Zac Brown Band, "Jump Right In"
19. "I don't care how long it takes me, but I am going somewhere beautiful." — Unknown
20. "Not all classrooms have four walls." — Unknown
21. "Travel is the only thing that makes you richer." — Unknown
22. "We travel not to escape life, but for life not to escape us." — Unknown
23. "The traveler sees what he sees. The tourist sees what he has come to see." — G.K. Chesterton
24. "I always wonder why birds stay in the same place when they can fly anywhere on Earth. Then, I ask myself the same question." — Harun Yahya
25. "There are no shortcuts to any place worth going." — Beverly Sills
26. "We must take adventures in order to know where we truly belong." — Unknown
27. "Can we just skip to the part of my life where I get to travel the world?" — Unknown
28. "Let's wander where the WiFi is weak." — Unknown
29. "Collect moments, not things." — Unknown
30. "Traveling — it leaves you speechless, then turns you into a storyteller." — Ibn Battuta
31. "I have left my heart in so many places." — Unknown
32. "I want someone to look at me the same way I look at a travel brochure." — Unknown
33. "When in doubt, go on a vacation." — Unknown
You'll have so much to say about your travels, and pictures will only capture part of it. Don't worry if you're speechless; that just means the world is as magical as everyone says it is.