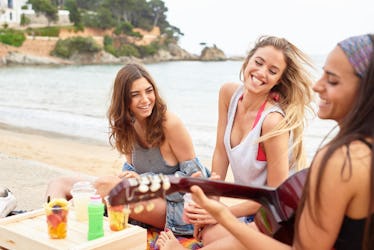 33 Captions For Summer Beach Parties, So Let The Sand Be Your Dance Floor
It's officially summer. Yes, the greatest season of all time is blessing us with unlimited rays of sunshine and the opportunity to beach bum it all day long. Once the sun begins to set, and someone turns up their wireless stereo, though, it's party time. Your crew transitions from relaxing on your towels, to fist pumping — and you need beach party Instagram captions to express all of the excitement unfolding around you.
Impromptu parties are the best, and there's no better place for them to unfold than at the beach. Whether you started the party or not, you aren't going to pass up the chance to chant Cardi B lyrics while rocking your favorite swimsuit and distressed denim shorts. You and your friends couldn't imagine a more ideal way to spend a summer day, and those feels need to be relayed to your followers.
If you find yourself rocking out to live music at a beach bar, or having a BBQ party with your friends on the sand, you're truly living your best life. Those moments aren't going to last forever, so before you're overpowered by the need to dance like no one's watching, paste a few of these captions into your notes and use them for your pics.
1. "I wish some nights lasted forever." — Unknown
2. "High on life and low on sleep." — Unknown
3. "Life might not be the party we hoped for, but while we're here we may as well dance." — Jeanne C. Stein
4. "Till the music is gone, let's party on." — Unknown
5. "Live for today. Plan for tomorrow. Party tonight." — Unknown
6. "Even though you're growing up, you should never stop having fun." — Nina Dobrev
7. "Now, the party don't start till I walk in." — Kesha, "Tik Tok"
8. "Good vibes. Good friends. Good times." — Unknown
9. "Life is a beach, I'm just playing in the sand." — Lil Wayne, "Right Above It"
10. "Enjoy life now. This is not a rehearsal." — Unknown
11. "Young, wild, and free." — Unknown
12. "Summertime, and the livin' is easy." — Ella Fitzgerald, "Summertime"
13. "The tans will fade, but the memories will last forever." — Unknown
14. "I dream of a never-ending summer." — Unknown
15. "I mean, how else do you seas the day?" — Unknown
16. "Keep your eyes on the stars, and your feet on the ground." — Theodore Roosevelt
17. "Water you doing right now?" — Unknown
18. "All I need is the salt in my hair and the sand between my toes." — Unknown
19. "Just a couple of beach bums." — Unknown
20. "Don't grow up too quickly, lest you forget how much you love the beach." — Michelle Held
21. "Live in the sunshine. Swim the sea. Drink the wild air." — Ralph Waldo Emerson
22. "For whatever we lose (like a you or a me), It's always ourselves we find in the sea." — E. E. Cummings
23. "The smell of the ocean never gets old." — Unknown
24. "Beach vibes only." — Unknown
25. "Let the waves hit your feet and the sand be your seat." — Unknown
26. "Life takes you down many paths but my favorite one leads to the beach." — Unknown
27. "Somewhere there is an empty beach chair with my name on it." — Unknown
28. "Because every day should feel like a day at the beach." — Unknown
29. "The older I get, the more I just want to follow the ocean and summer." — Unknown
30. "Meet me where the sky touches the sea." — Jennifer Donnelly
31. "The beach is definitely where I feel most at home." — Unknown
32. "Life is short, find what makes you happy and go there." — Unknown
33. "Some of the best memories are made in flip flops." — Unknown