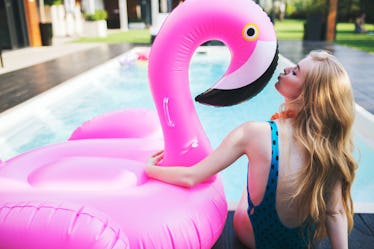 Vacation Mode On: 30 Captions For Your Pool Floaty Pics This Summer
If you live for the summer, you're probably planning on spending as much time in the water as possible. Pool floats have been all the rage, and we're so here for the trendy shapes and vibrant colors there are to choose from. But before you stretch out blissfully on your pink flamingo, you'll need a few pool float Instagram captions for all of your cute pics. If there's no proof, did your floating even happen? Give your emoji floaty the epic debut it deserves by posting on the 'Gram.
It's worth noting that even though your mascara is waterproof, your phone may not be. So, you might want to recruit your bestie to snap those candid shots of you floating the afternoon away on your rosé floaty. (She's got your best interests at hand.)
Pool floats have been fun since you and your friends were playing on them way back when. You know, the days when diving for rings and playing Marco Polo were competitive AF. Now, pool floats have received a makeover, and you can cruise on a life-size avocado, diamond ring, unicorn, or a huge bottle of merlot. It's safe to say that the pool floaty game is on point, and you aren't against it at all. I mean, how could you be? They're incredibly photogenic, even when they're photobombing your bikini pics. Even your Mai Tai and fur baby can have a floaty, so obviously these fun water accessories are here to stay for the long haul.
Since the themes only seem to be getting doper, you need to keep track of how many you actually get to float on this summer. You can even make a game out of it with your girls and see who can rack up the most floaty pics during your mini vacays. Whether you're at the lake, beach, or a pool, a floaty will truly complement the occasion and your pictures. Even if your floaty is already super extra, you'll need a caption to complete it.
1. "Now don't you worry we'll all float on alright." — Modest Mouse, "Float On"
2. "Float like a butterfly, sting like a bee." — Muhammad Ali
3. "You float my boat." — Unknown
4. "Sometimes you need to just chill." — Unknown
5. "Chill mode, please." — Unknown
6. "When in doubt, vacation." — Unknown
7. "Life is so much easier when you chill out." — Unknown
8. "It's the weekend, baby." — Unknown
9. "Enjoy the little things in life." — Unknown
10. "Sometimes the most productive thing you can do it relax." — Unknown
11. "I chill harder than you party." — Unknown
12. "Make every day a cloud nine kind of day." — Unknown
13. "Do whatever floats your boat." — Unknown
14. "Chillin'. You should try it some time." — Unknown
15. "Happiness doesn't have to be chased...it merely has to be chosen." — Mandy Hale
16. "I'm happiest when I'm floating." — Unknown
17. "Young, wild, and free." — Unknown
18. "Summertime and the livin' is easy." — Ella Fitzgerald
20. "Every summer has a story." — Unknown
21. "No diving, please." — Unknown
22. "We lived in the sun." — Unknown
23. "I need summer to be longer so I have more time to do nothing." — Unknown
24. "Keep it simple, babe." — Unknown
25. "Live a colorful life." — Unknown
26. "Hello, summer." — Unknown
27. "The tans will fade, but the memories will last forever." — Unknown
28. "Soak in the sun." — Unknown
29. "Mermaid kisses and starfish wishes." — Unknown
30. "On an island in the sun." — Weezer
Pool floats are here to accessorize your summer in the best way possible. Take your pick, and float into a state of utter relaxation.