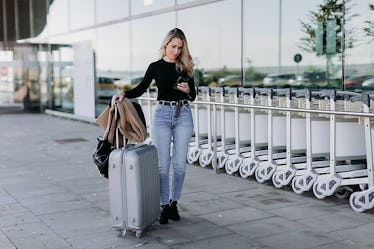 30 Cute Captions For When You're Posing With Your Suitcase At The Airport
Pack up your bags and get ready for a new adventure. The days leading up to a trip are extremely exciting. You're full of anticipation — you're so close to being in your dream destination. You're researching the best things to do, and tying up all loose ends before you hit the road. You're double checking your packing list twice to make sure that you don't leave anything behind, because there's no turning back. Organizing the new clothes you treated yourself to is fun, and the process is even more exciting when you have a cute suitcase to pack them in. Before you jet off, check out these Instagram captions for suitcase pics when you're ready to strike a pose with your chic luggage.
When you're traveling, your suitcase is basically your home. All of your clothing and most valuable items will be stored inside for the duration of your trip, so it's important to choose wisely when you're luggage shopping. You're also preparing for the trip of a lifetime, so you want to dress the part, which requires being able to fit all of the options into your suitcase.
Once you pick out the best suitcase that suits your needs, adventure awaits. Kick your journey off with any of these captions.
1. "What I can't fit into my suitcase is probably something I don't need." — Jens Lekman
2. "It's great to just disappear, grab a suitcase, switch the answering machine on and just go somewhere else." — Dido Armstrong
3. "Bags packed. Passport ready."
4. "Wheels up."
5. "Everything important that I have done can be put into a little suitcase." — Marcel Duchamp
6. "#teamcarryon."
7. "I'm a vagabond. I have a suitcase that is ready to go at a moment's notice. The thought of being in one place for a long time, or playing one character for a long time, is terrifying for me." — Kevin Bacon
8. "Jet-lag is for amateurs."
9. "See you at the gate."
10. "Bags checked. No Stress. Travel-obsessed."
11. "Ready for a new adventure."
12. "Take your luggage and leave your baggage behind."
13. "Bon voyage!"
14. "Think I overpacked a bit."
15. "Catch flights, not feelings."
16. "Grateful for every adventure with you."
17. "You're off to great places. Today is your day. Your mountain is waiting, so... get on your way" — Dr. Seuss, Oh the Places You'll Go!
18. "Do not disturb."
19. "I basically live out of a suitcase."
20. "They say home is where the adventure is."
21. "I haven't even left, but I already want to stay."
22. "Let's explore the unknown."
23. "En route to my next vacation."
24. "One-way ticket to paradise."
25. "What happens in *insert destination*, stays in *insert destination*."
26. "Sorry for what I said when I wasn't on vacation."
27. "Oh, the places you'll go." — Dr. Seuss, Oh, the Places You'll Go!
28. "I haven't been everywhere, but it's on my list." – Susan Sontag
29. "The mountains are calling and I must go..." — John Muir
30. "Officially out of office."