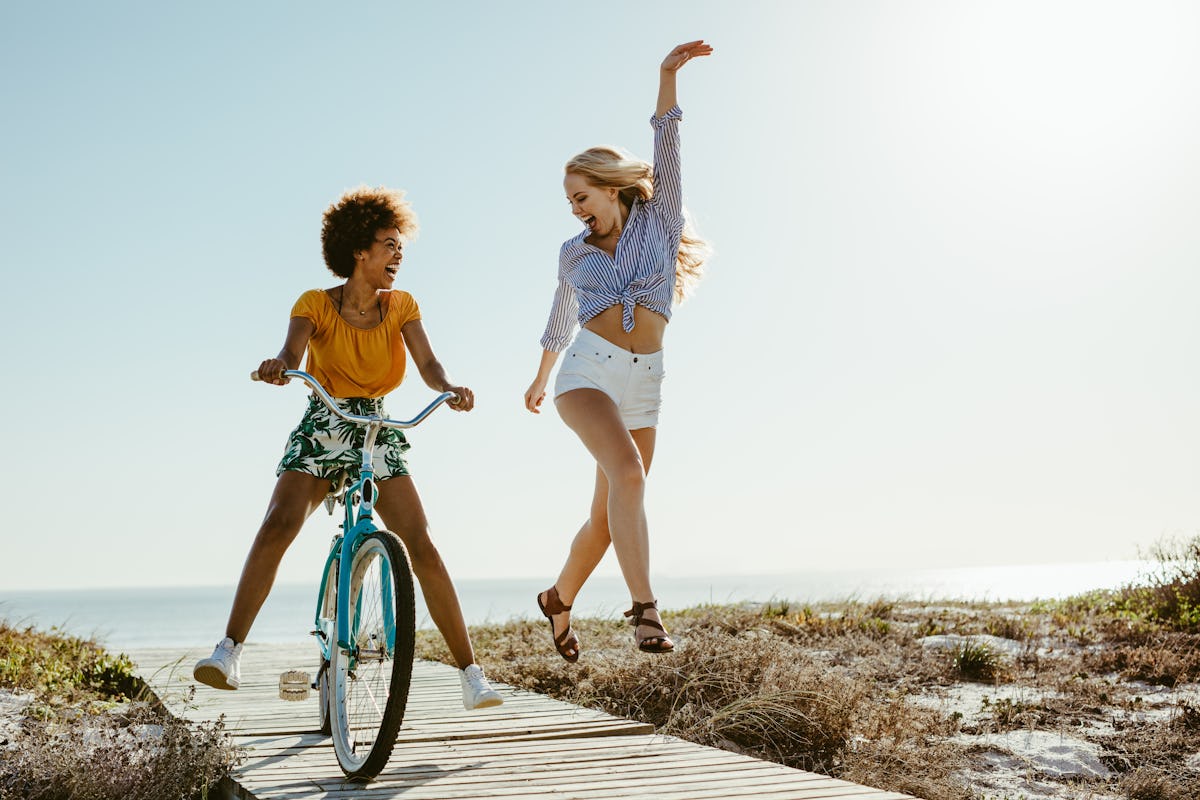 30 Heart Puns That'll Get Your Blood Pumpin' This Valentine's Day
Shutterstock
The day of love is creeping up on us rather quickly, and you need to make sure you're ready for it. I'm not just talking about being prepared with your dinner reservations and what outfit you're wearing. You should embrace the holiday with the perfect caption for your picture of you and your sweetheart. Even if you're not a huge social media person, you may want to post at least one snap of you and your honey this V-Day. What better way to celebrate the day than with heart puns for Instagram captions?
The typical cartoon heart has become associated with this holiday, and it's such a cute symbol to draw inspiration from for your captions. Lyrics are fun, and a lovey-dovey quote from your favorite movie will also suffice — but there's just something about a corny, sappy, or clever pun that does the trick.
Make sure to grab some red wine and a cute red accessory to go with the heart theme, and also some red lipstick to really pop. Or, go down your own path and be super chill about the whole thing. Whatever you do, you know the way to your bae's heart — and you'll capture it forever with these love-inspired puns.
1. "I know this is cheesy, but you'll always have a pizza my heart."
2. "You make my heart beet."
3. "I aorta tell you how much I love you."
4. "You hold the woo-key to my heart."
5. "I wanna give you a hearty hug on Valentine's Day."
6. "I won't go bacon your heart."
7. "You sure know how to make my heart beat."
8. "You're not vein, that's why I love you."
9. "My heart and my brain are Valentines to each other this year."
10. "Dear Heart, Please stop getting involved in everything, your job is to pump blood. That's it."
11. "Two red blood cells met and fell in love, but it was all in vein."
12. "Many people tell me to follow my heart. But how am I supposed to understand, 'lub-dub, lub-dub'?"
13. "Hearts on fire this Valentine's Day."
14. "Eat your heart out this Valentine's Day."
15. "It's OK to follow your heart, but take your brain with you."
16. "You cannot kindle a fire in any other heart until it is burning in your own." — Ralph Waldo Emerson
17. "You octopi my heart."
18. "If you were a fruit, you'd be a fine-apple."
19. "So mushroom in my heart for you."
20. "What do you call two birds in love? Tweet-hearts!"
21. "Wear your heart on your sleeve. Just don't get it dirty."
22. "Don't touch the heart. I mean art!"
23. "I love you like no otter."
24. "Shot to the heart and you're to blame. Happy V-Day!" — A play on "You Give Love A Bad Name"
25. "I love you with all my butt. I'd say heart, but my butt is bigger."
26. "I know it's corny, but you are a-maize-ing!"
27. "Come live in my heart and pay no rent."
28. "I love you a latte."
29. "Last Valentine's Day, I gave you my heart and the very next day you swept me away!" — A play on "Last Christmas"
30. "I love you from my head tomatoes."
This article was originally published on