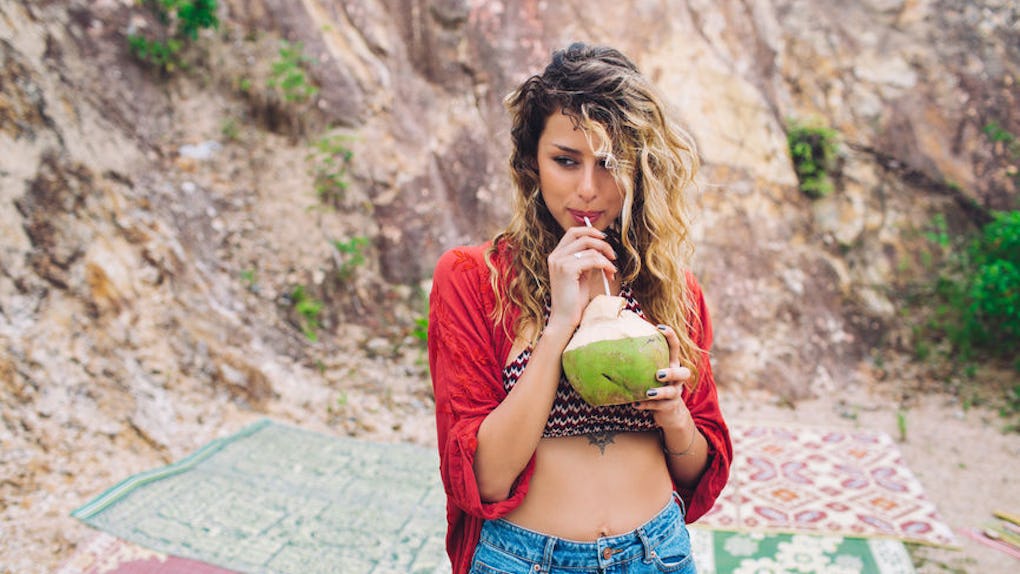 Studio Firma/Stocksy
30 Coconut Captions For Instagram, Because Paradise Is A Sip Away
Real talk: Is there a more perfect way to embrace those chill summertime vibes than by sipping a fruity drink out of a coconut? Paradise doesn't necessarily have a designated mascot, but if it did, a coconut would be it, in my opinion. Having at least one coconut drink (whether it be virgin or alcoholic) is essential to living your best life when you're experiencing warm weather. Of course, you'll need coconut captions for Instagram to give your followers a taste of your tropical state of mind. Also, don't forget to snag a mini umbrella and bendy straw to complete your drink. (A coconut beverage almost seems incomplete without them, am I right?)
To be honest, you don't even have to be sipping from a coconut to enjoy the fruit. The sweet treat is an option as a topping on your acai bowl, or you can serve your smoothie bowl in a coconut. The opportunities are seemingly endless, and you aren't against swooning over any variation of coconuts.
Wherever you are, a coconut immediately transports you to a beautiful tropical coastline in your mind, and it'll make you wish you were lying on the white sandy beach. I know, it almost seems unfair that a fruit can make you imagine relaxing on a floaty in turquoise water, but I'll take it.
Are you actually jetting off to paradise on vacation sometime soon? You better gear up, because you'll be surrounded by everything coconut, and for the ultimate photo opportunity, you really couldn't ask for a better prop. I mean, you want your vacation pics to get all the double taps on the 'Gram, right? You can't go wrong pairing your photos with any of these 30 captions.
1. "The only time I feel at ease is swinging up and down in a coconut tree." — Ray Davies
2. "I'll admit that I do quite like drinks that come in coconut shells. So there's always that." — Danica McKellar
3. "The grass is in fact always greener underneath a coconut tree."
4. "For I am coconut, and the heart of me is sweeter than you know." — Nikki Grimes
5. "Coconut lover since day one."
6. "Maybe she's born with it, maybe it's the coconut."
7. "The definition of tasting paradise."
8. "Sending my tastebuds to the Caribbean, be right back!"
9. "All you need is love and coconuts."
10. "A coconut a day keeps the doctors away."
11. "I'm going cuckoo for coconuts."
12. "Who knew you could hold a piece of paradise in your hands?"
13. "There's not much that a coconut can't fix."
14. "Coconuts: a first-class ticket to a shoreline."
15. "Coconuts are the best cups a girl could ask for."
16. "Let's go coconuts."
17. "The tans will fade, but the memories will last forever."
18. "The two basic items necessary to sustain life are sunshine and coconut milk." — Dustin Hoffman
19. "Dreams are made of sun, sand, and coconuts."
20. "I think my soulmate might be coconuts."
21. "Don't worry — drink a coconut."
22. "You can't beat the smell of coconut."
23. "Living that coconut kinda life."
24. "Is it even really a vacation without coconuts?"
25. "Sipping on paradise until the last drop."
26. "Paradise found."
27. "Finding paradise wherever I go."
28. "Cold coconuts and palm trees, please?"
29. "I'm sorry for what I said when I ran out of coconuts."
30. "Good vibes save lives."
This article was originally published on