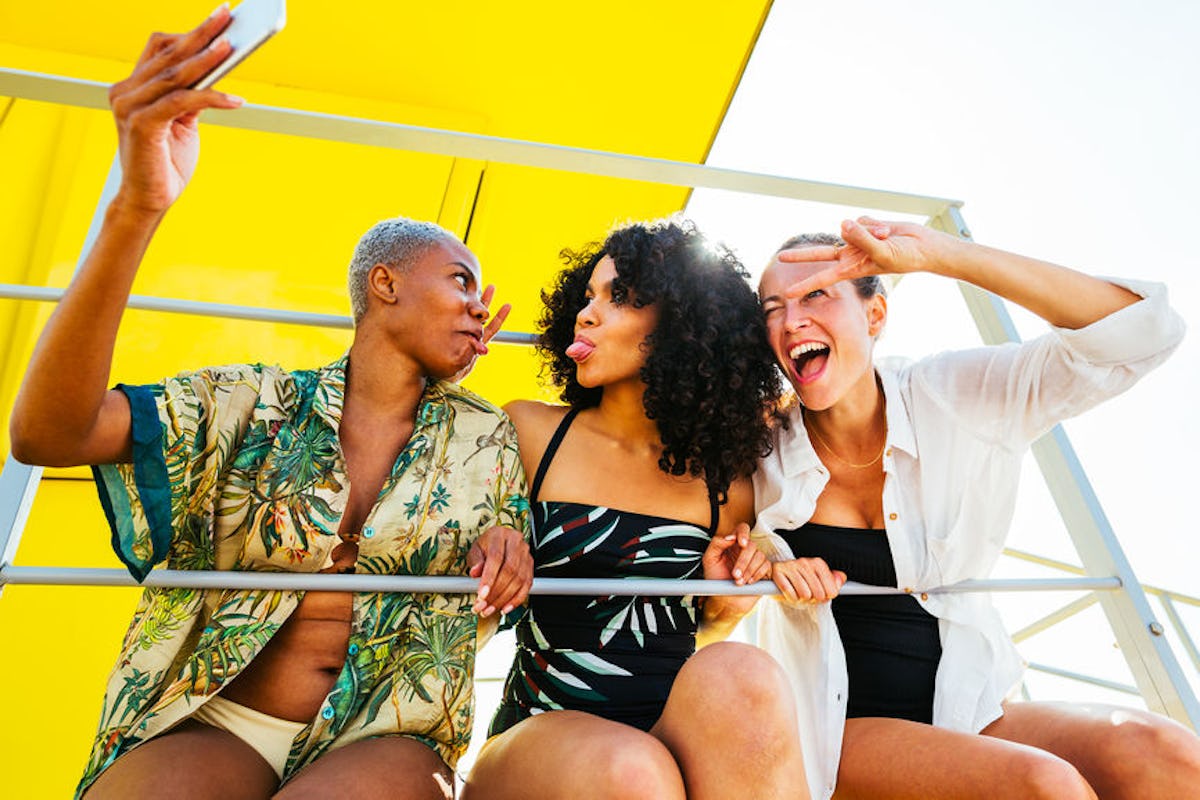 30 Clever Captions For Pics With Your Friends That Are Worthy Of Your #SquadGoals
When I'm with my best friends, I'm constantly smiling from ear to ear, and there's no one else in the world who knows how to make me laugh until I cry like they do. If you can relate, you know you wouldn't trade your crew for the world. You're always going on the coolest adventures, and even have the best time when you're eating pizza together in your shoebox-sized apartment. For all of those memories, you'll need some clever captions for pictures with friends when you decide to post them to the 'Gram.
From all of your #squadgoals pics to silly selfies together, you have a ton of photos with your friends on your phone. They may even be eating up lots of your storage space, so now is the perfect time to share to the 'Gram. When you're ready to post, you need just the right caption that sums up how you really feel about your friend group. That's why any of these 30 clever captions about friends will get the job done. They're hilarious (just like all of the inside jokes you have), while also proving that your besties really mean a lot to you. When you're done showing off your squad to your followers, get back to having the best time with your good-time crew.
1. "You can't do epic stuff with basic people." — Unknown
2. "We will be the old ladies causing trouble in all the nursing homes." — Unknown
3. "Friends who slay together, stay together." — Unknown
4. "Kind people are my kinda people." — Unknown
5. "I can't really see another squad tryna cross us." — Drake, "No Tellin'"
6. "Before they kicked us out." — Unknown
7. "Nobody has to like us; we like us." — Unknown
8. "Yes, we know how obnoxious we are together. No, we don't care." — Unknown
9. "Unlike Barbies, me and my girls aren't sold separately." — Unknown
10. "Friends don't let friends do silly things… alone." — Unknown
11. "In squad we trust." — Unknown
12. "You can't sit with us." — Mean Girls
13. "I don't know what's tighter, our jeans or our friendship." — Unknown
14. "Nobody really likes us except for us." — Drake, "6 God"
15. "It's amazing how one day someone walks into your life, and you can't remember how you ever lived without them." — Unknown
16. "My frond to the ond." — Broad City
17. "Not sisters by blood, but sisters by heart." — Unknown
18. "Life is scary, find your boo." — Unknown
19. "You're pretty much my most favorite of all time in the history of ever." — Unknown
20. "I value your friend-chip." — Unknown
21. "You're koala-ty friends." — Unknown
22. "Thanks for pudding up with me." — Unknown
23. "Good friends are hard to find and impossible to forget." — John Green
24. "A friend is someone who knows all about you and still loves you." — Elbert Hubbard
25. "There is nothing I would not do for those who are really my friends. I have no notion of loving people by halves, it is not my nature." — Jane Austen
26. "There is nothing better than a friend, unless it is a friend with chocolate." — Linda Grayson
27. "It is one of the blessings of old friends that you can afford to be stupid with them." — Ralph Waldo Emerson
28. "It's the friends you can call up at 4 a.m. that matter." — Marlene Dietrich
29. "Count your age by friends, not years. Count your life by smiles, not tears." — John Lennon
30. "The 'she' to my 'nanigans.'" — Unknown
This article was originally published on