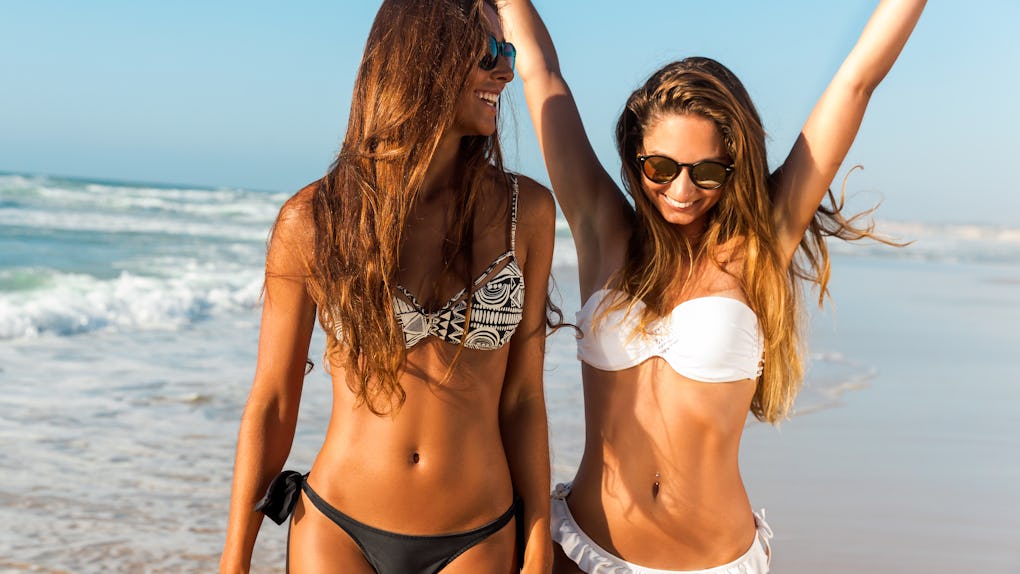 iko/Shutterstock
30 Captions For Bikini Pictures, Because Being Reunited With The Beach Feels Great
Winter is dwindling down, and there's no better way to celebrate the first sign of sunshine than by whipping out that bikini you've been anticipating forever. Whether it's a new one or a favorite you've had for a couple of years, a swimsuit is the best kind of outfit for those lazy beach days or when you're floating in the pool. It might be your spring break, or simply a tropical vacay you've been waiting to take for awhile now. Whatever the case, you're going to need captions for bikini pictures when they finally make a reappearance in your life. Thank you, sunshine.
Bikinis come in so many different styles and colors. It can be challenging to only have one or two. Either way, every girl has that bathing suit that makes them feel like an enchanting mermaid. A bikini makes you want to lay out on the sand, hit the waves, or even walk up and down the boardwalk. They're really just that versatile and instantly transport us to the surf and sand. And if you're taking advantage of any subtle glimpse of sunshine until it's officially spring, you might not be opposed to taking out one of those bikinis for a test run.
Getting out any of your beach clothes is such an exciting feeling. You might have to dust them off, but you're not complaining, because it's only up from here and towards more sunshine from this point forward. So, it's prime time to pair those absolutely adorable bikini pics with some carefree captions.
1. "We dream in colors borrowed from the sea." — Unknown
2. "Good vibes happen on the tides." — Unknown
3. "Happiness comes in waves." — Unknown
4. "Smell the sea and feel the sky. Let your soul and spirit fly." — Van Morrison
5. "Live life in a bikini." — Unknown
6. "You can't buy happiness, but you can buy a bikini and that's pretty close." — Unknown
7. "Life is better in a bikini." — Unknown
8. "Bikinis are like fries. You can't have just one." — Unknown
9. "If we allow these moments to stick to us like sand, your life could be castles." — Unknown
10. "Long live the adventure." — Unknown
11. "If it requires a bikini, my answer is yes." — Unknown
12. "Swim your heart." — Unknown
13. "Go where you feel most alive." — Unknown
14. "It's not Sunday unless you're drinking champagne in your bikini." — Unknown
15. "Because it's summer somewhere." — Unknown
16. "Dreams are made of sun and sand." — Unknown
17. "Life is short. Buy the bikini." — Unknown
18. "When all else fails, take a vacation." ― Betty Williams
19. "What woman doesn't want to feel comfortable in a swimsuit? It's incredibly empowering." — Sara Rue
20. "I don't even think twice about wearing a swimsuit because it's always been a part of my lifestyle." — Audrina Patridge
21. "The lower the latitude the better the attitude." — Unknown
22. "Find me under the palms." — Unknown
23. "Every day is one step closer to summer." — Unknown
24. "Tropical state of mind." — Unknown
25. "There is no place like the beach... where the land meets the sea and the sea meets the sky." ― Umair Siddiqui
26. "Meet me there, where the sea meets the sky..." ― Oksana Rus
27. "Because there's nothing more beautiful than the way the ocean refuses to stop kissing the shoreline, no matter how many times it's sent away." ― Sarah Kay
28. "The sea always filled her with longing, though for what she was never sure." ― Cornelia Funke
29. "I was happy anywhere I could see the ocean." ― Ai Yazawa
30. "Keep your face to the sun and you will never see the shadows." ― Helen Keller
In my opinion, bikinis will always be a girl's best friend — no matter what occasion she wears one. They're a sign that good times and sunshine are well on their way.