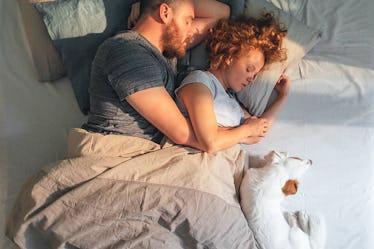 If You Would Rather Be The Small Spoon, You're Probably One Of These 3 Zodiac Signs
I don't spoon, I spatula. What that means is, I lie on my back and let my partner lie next to me, shoulders touching. I guess what I'm saying is, I'm not really into cuddles. Maybe it's just the independent Virgo in me, but a girl needs her personal space, OK? It gets hot, and I need to be able to toss and turn at will. My worst case scenario is getting stuck in the small spoon position, but, for some zodiac signs who would rather be the small spoon, it's a dream come true. I mean, all that concentrated snuggle power wrapped around them, trapping — er, I mean holding — them oh-so romantically... I'm feeling claustrophobic now just imagining it. I kid, I kid — mostly.
But all joking aside, spooning is a wonderful way to be affectionate and connect as the two of you drift off to sleep together. But the key isn't just finding the right cuddle position for your relationship. It's also about finding someone who likes to cuddle the same way you do. It's a personal decision, and there is no wrong way to cuddle if it feels good to both you and your boo. If what feels most right to you just happens to be little spoon, well, then chances are you're one of the following zodiac signs.