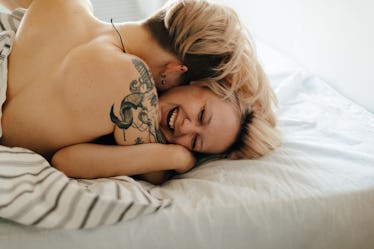 If Your Partner Always Puts Your Pleasure First, They're Probably One Of These 3 Zodiac Signs
Want to know my best tip for the most incredible sex life? Of course you do. Well, here it is: Find yourself a lover who puts your pleasure in the bedroom first. Pretty simple, right? But it's true. Nothing matters more when it comes to great sex than being with someone who truly cares that you're enjoying yourself, and who not only wants to satisfy you, but actually gets off on it. But how do you find these mythical sexy-time unicorns? Well, you can start by focusing on the zodiac signs who will prioritize your pleasure, and then leading them to the nearest bed.
No one zodiac sign has a monopoly on crushing it in the boudoir, because every sign has the potential to rock your world. However, there are a few signs that really just seem to have an edge when it comes to, well, making you come. These are the folks who are both generous and determined, who will persevere until the job is done, and who will always perform in the bedroom because it comes from their heart — or at least their libido. If that sounds like something you may be interested in, these are the signs you need to be keeping an eye out for.