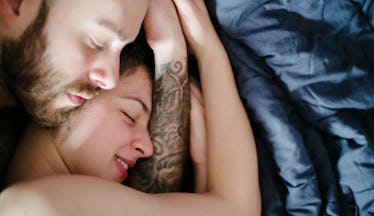 If You Prefer Morning Sex, You're Probably One Of These 3 Zodiac Signs
What's your favorite time of day (or night) to have sex? Do you like to end a long, hard day with a bit of nookie? Will you take it just about anytime, anywhere, with anyone? Or are you an, ahem, early riser who thinks getting in an early workout is best done in the prone position? If your answer was the latter, then you're probably one of the zodiac signs who prefer morning sex. Because, hey, the only thing better than a cup of coffee in the morning is an orgasm, am I right?
While all the zodiac signs enjoy the occasional action in the A.M. (because, let's be honest, morning sex is pretty awesome), there are a handful of signs who feel strongly that the morning is the best time to get it on. For one thing, they are naturally early risers who just wake up bursting with energy and love to work some of that out with their boo. That's not to say they can't get it on around the clock, but if they can knock it out first thing in the morning, then why wait? If you think of your alarm clock as a mating call, there's a good chance you're one of these signs.