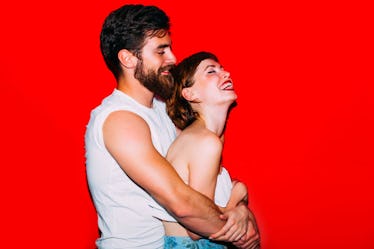 If You Don't Mind Period Sex, Hook Up With One Of These 3 Zodiac Signs ASAP
Are you freaked out by the idea of period sex? Too messy? Too private? Just straight-up gross? Well, I have a radical idea for ya: Period sex is actually no big deal! Sometimes it happens, either intentionally, or as a surprise three-way with Aunt Flo. So long as your partner is into it, it's really not that weird. In fact, the extra ~lubrication~ can make it feel pretty amazing. But if you're going to give someone a ride on your crimson tide, just make sure it's one of the zodiac signs who don't mind period sex. Yes, they do exist.
Before we get into who to have period sex with, let's talk a bit about how. First off all, yes, you can still get pregnant while you are on your period — it's less likely, but still possible if you have a period cycle shorter than 20 days, or an irregular one. If your cycle is short or unpredictable, it's possible for you to ovulate during the two-to-five day window where sperm can remain active and alive inside you. Pretty crazy, right? So take precautions. I recommend condoms, because in addition to pregnancy risk, there is a slight increase in chance of contracting an STI during your period because your cervix is more open. So please, do protect yourself.
OK, now that you're ready for the horizontal menses boogie, here's who to do it with, according to their zodiac sign.