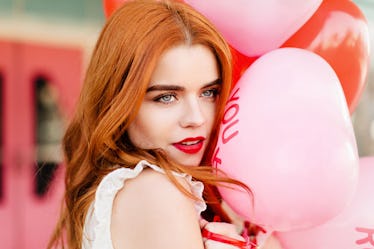 If You Love Valentine's Day The Most, You're Probably One Of These 3 Zodiac Signs
Does the sight of heart-shaped balloons and chocolates taking over every store fill you with joy and anticipation? Or does it summon up a sense of seasonal existential dread? Do you find yourself imagining how you want to spend Feb. 14, or shaking your fist at this blatant capitalist cash grab? If it's the former, then congratulations, you are definitely A Valentine's Day Person. And chances are you're also one of the zodiac signs that love Valentine's Day the most. These are the signs with a romantic streak a mile wide, who are thrilled to have a whole day dedicated to celebrating love. A day when not only is it acceptable to go all-in on the romance, but it's highly encouraged.
It can also be helpful to know which zodiac signs love Valentine's Day in case you happen to be dating one. That way, you'll know if they they are secretly hoping you'll make a big production out of the day with some grand romantic gesture. Even if you're pretty Valentine's day ambivalent, you'll want to know if you should be planning a special day for your V-day-loving bae. Here are the signs who are all in on Valentine's Day.
This article was originally published on