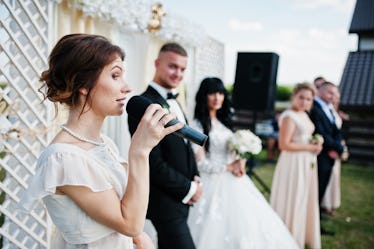 3 Zodiac Signs That Give The Worst Wedding Speeches
Wedding season is officially here, which means you're likely doing a lot of RSVP-ing or even donning a bridesmaid dress or two. Between you and me, I actually love this time of year. What can I say, I like weddings, whether I'm a guest or when I've been a part of the bridal party — including a time when I was a pinch flower girl after the bride's niece backed out. But one thing I've never had to do is give a toast. Which, as one of the zodiac signs that give the worst wedding speeches, is probably a blessing.
Listen, some folks thrive in public speaking situations. They love to take the mic and delight the audience with hilarious anecdotes about the couple, and then bring everyone to tears with a heartfelt message for the future. But not everyone has that particular gift, so being asked to give a speech at a wedding could be really anxiety inducing. Or maybe it isn't, but the person you ask isn't the most reliable and, instead of preparing, decides to just wing it. Either way, those folks may not be the ones you want to hand the mic to. Now don't get me wrong, any sign in the zodiac is capable of giving a great or, ahem, disastrous speech, but here are the signs most likely to miss the mark.