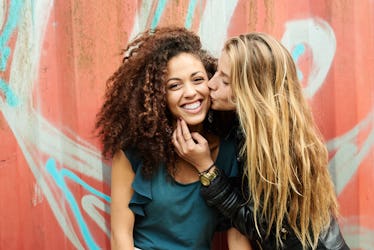 If You're Always Optimistic About Relationships, You're Likely One Of These 3 Zodiac Signs
Do you have that friend who — no matter how many breakups they go through, bad dates they go on, or jerks who ghost them — never stops believing in true love? Well then, chances are they are one of the zodiac signs that are always optimistic about relationships, no matter what.
Personally, as a cynical Virgo, I can't relate. I am a relationship realist, as in: Most relationships really suck, but occasionally they are amazing and, when that happens, I work really hard to make them last. While that attitude has served me well in the past, I've always been secretly envious of folks who just never seem to let a breakup keep them down for long. They're dating again in no time, and are usually the first ones to promise me it will get better when I've got a broken heart. But don't tell them I said that; they are already too dang upbeat.
So, does all that sound familiar? Do you know someone like that? Or are you maybe that someone? Well, if so, then you (or they) could be one of the following signs that just have a knack for always staying optimistic about love and relationships.