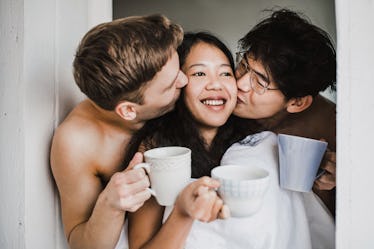 If You're Down To Try An Open Relationship, You're Probably One Of These 3 Zodiac Signs
How important is monogamy to you in a relationship? Is it essential, or do you think you may be open to being, well, open? Chances are, if you're in the latter group, you're probably one of the zodiac signs most likely to try an open relationship, and you're definitely not alone. In fact, a study conducted by the University of Michigan in 2014 showed that between 11 and 22 percent of women were open to the idea of of being in a non-monogamous relationship. Men were even more open to the idea with 23 to 40 percent saying they had an interest in non-monogamy. But here's where things get really interesting: Despite men being more open to the idea of opening up their relationships, it was the women who drove the decision, according to a survey conducted by Open Minded, a dating site for folks seeking an open relationship. Pretty cool, right?
What I'm saying is, despite polyamorous relationships being considered "non-traditional" by some folks, non-monogamy is very normal. So, if that's something you're interested in, it's totally OK to pursue it — so long as everyone in the relationship is on board with your decision. The first rule of polygamy? Being honest in your communication.
This said, can you predict who might be open to the idea based on their astrological signs? Well, these are the signs with the character traits that make them most likely to be interested in having a more open approach to romance and love.