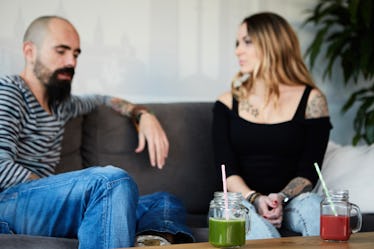 3 Ways To Cope When Your Roommate & Boyfriend Or Girlfriend Don't Get Along
If I can brag for a sec, I like to think that I can get along with most anyone. I enjoy meeting friends of friends, I always compliment my barista's neon purple manicures, and I'm a decent first date. But when it comes to my own living space, I'm less friendly. I live in New York, where the cost of rent is equivalent to buying a Macbook ever month, so I'm not super keen on extra people hanging around my apartment. However, as an adult, I do understand that if you're in a relationship, your roommate and boyfriend or girlfriend are inevitably going to spend time together.
Here's the thing: it's always a little bit annoying when a person who isn't paying for your tiny-but-expensive living space is in it. Especially if they are in it a lot — and using your kitchen, leaving the toilet seat up, not washing dishes, and so on. But on the other hand, if you're in a relationship and live with a roommate (and need less alone time than me) of course you want your partner to come over to the apartment that you also pay for.
I think my point is this: living spaces and roommate arrangements are always complicated, even when you get married to your roommate one day, so remember what being on the other side of the situation feels like. If your partner and roommate don't get along, there are some steps you can take to attempt to remedy the situation. I spoke to two therapists who specialize in relationships about some tangible ways to cope when your partner and roommate do not get along, because let's face it — leases are hard to break.