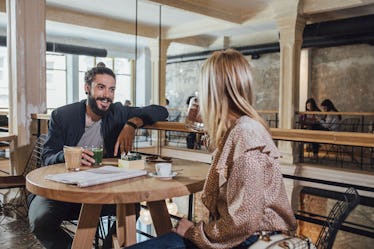 3 Things You'll Notice If Your Date Wants Something Serious, So You Can Be Prepared
Going out on dates is fun and exciting, albeit somewhat nerve-wracking as well. But whether it's your first date with someone new, or you've been seeing this person for a few weeks — when the relationship hasn't been defined, it can be confusing. In today's world, it can be hard to tell if someone wants an actual relationship or just a fling. So if you need to know what's going through their head, there are definitely things you'll notice if your date wants something serious. They might not tell you straight-up that they're looking for commitment, but there are ways you can tell that are expert-approved.
"If your date is looking for a serious relationship, this person may or may not actually put that into words," psychotherapist and relationship expert Denise Limongello tells Elite Daily. "Some people are vocal about wanting a relationship, while others are more subtle and their actions are the indicators that they're looking for something serious."
Just because the person you're dating hasn't said that they want a real, honest-to-goodness relationship doesn't mean that they don't want one, but maybe they're more reserved in saying what they're looking for. But worry not: There's nothing wrong with that, and there are still ways for you to tell.