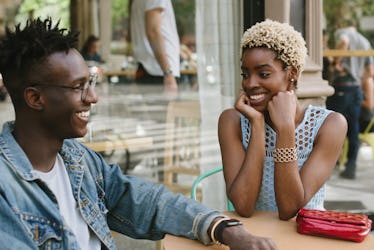 3 Tiny Body Language Clues You're Not 100 Percent Comfortable Around Your Partner
Sometimes, I think we try to trick ourselves into being comfortable with (or attracted to) someone because they feel so right on paper. I know I'm guilty. A guy will check all of my boxes — silly, friendly, down to watch endless episodes of Friends while petting my head — and I'll convince myself all is well, but something just doesn't click. And as much as you try to ignore the signs that you're just not comfortable your partner, they're undoubtedly there. Nipping away at your relationship like fleas on a dog.
What's crazy is that we might not notice these signs, at least not immediately. You want to feel comfortable and content in your relationship, so don't recognize that you flinch at your boyfriend's touch or can barely hold your girlfriend's gaze.
Mhm, mhm. Same.
"Our body language and our perception of body language is largely determined by the brain — we make split decisions based on how we judge others," explains body language expert Tonya Reiman. "Typically, that judgment occurs within one-tenth of a second. Research shows that whatever we are feeling first shows up in our brain's limbic system, and then in our bodily reflexes."
In other words, the way your body moves directly reflects your emotions. Your head is raising red flags that your heart, for whatever reason, is trying to ignore. And if you're doing any of these three actions around your partner, it could mean that something in your brain is saying, "Ay, yo, something doesn't feel right here."