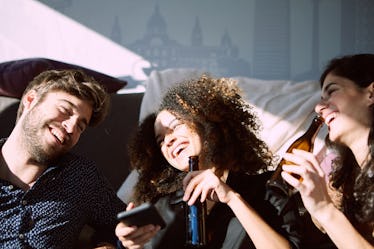 3 Signs Your Partner Has A Wandering Eye, But Here's Why You Shouldn't Worry
Once you're in a relationship, it's totally understandable to want your partner to think you are the hottest person on the planet. And surely, they do. But there are literally tons of attractive people your bae is going to come across on a daily basis, and although a glance or two can be harmless, it's still totally normal to be concerned you're missing the signs your partner has a wandering eye. The thing is, being in a relationship doesn't make you oblivious to other attractive people, so, is this actually something you need to be worried about?
Well, it depends. It's worth noting that looking at someone who's attractive and perhaps even engaging them in conversation is different than anything that would physically be defined as cheating. Although, the definition of "cheating" can and often does vary from relationship to relationship.
It might sound surprising, but according to a study published in the U.S. National Library Of Medicine, it only takes about 100 milliseconds of gazing for the average person to decide if someone is a potential sexual partner. That's less than a second, which is far from the obvious ogling that most people associate with a "wandering eye". I spoke with Brooklyn-based dating expert Demetrius Figueroa to figure out the common signs your partner is window shopping, and how to tell if it's harmless or leading to more risqué behavior.