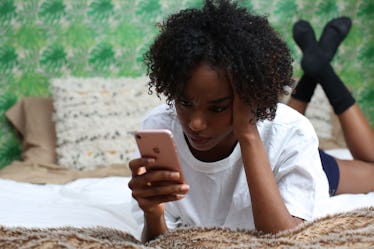 An Infidelity Expert Reveals 3 Signs Your Long-Distance Partner May Be Cheating
Ashley Batz/Bustle
Long-distance relationships are tough. You place an enormous amount of trust in your partner to remain faithful to you, and they put their confidence in you as well. If you're worried that your long-distance boyfriend or girlfriend is cheating on you, you may not have the luxury of talking to him or her about it face-to-face. Factors including distance, time differences, and conflicting schedules can all lead to a decrease in your communication, which doesn't help if you suspect your partner may be cheating.
While it's important not to jump to conclusions or make assumptions without first discussing your concerns with your significant other, there are a few signs that could indicate your S.O. is cheating on you. I spoke to social researcher Wednesday Martin, Ph.D., author of the new book about infidelity, Untrue: Why Nearly Everything We Believe About Women, Lust, and Infidelity Is Wrong and How the New Science Can Set Us Free, about the red flags that your partner may not be telling you the whole truth about their behavior.
If your partner is acting in questionable ways, or you feel like something is off between you, do your best to approach the topic in a non-confrontational way. Martin suggests trying to avoid accusations when talking to your boyfriend or girlfriend about infidelity. "Try language like, 'I've noticed you've been in touch less' rather than 'You're so distant. Are you cheating?!'" she says. This will help open up the conversation and allow you both to share your honest thoughts and feelings.