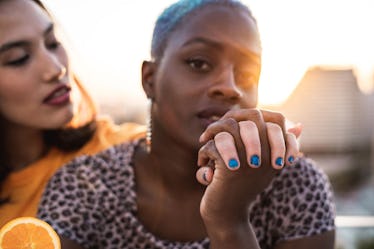 3 Early Signs You & Your Crush Aren't Meant To Be
Clichés like "you're a match made in heaven" or "you're meant to be" get thrown around all the time when it comes to romance. But have you ever stopped to think about what they truly mean? When it comes to vetting potential partners, it might be hard to pick up on the signs you and your crush aren't meant to be, but part of the reason it's so tough is because once you get stuck to the idea, it can be hard to abandon. Facing the possible reality that you and the person you have feelings for just aren't a compatible match can be sad and uncomfortable, so holding onto that hope for as long as you can is totally understandable.
"In a romantic context, I'd hesitate to define 'meant to be' as something related to our destiny," dating coach and writer Clara Artschwager tells Elite Daily. "It's an internal feeling. Sometimes, it's rational. Sometimes, it's not. The most important thing to do is get clear on: Are my feelings of 'meant-to-be-ness' grounded in reality or am I using them as a scapegoat for something else?" This can be anything from post-breakup blues, to bleak prospects for cuffing season, or dreading riding solo to formals and weddings.
With that in mind, here are three signs you and your crush just aren't meant to be.