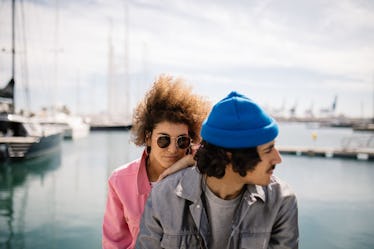 3 Red Flags Your Partner Isn't As Into You As You're Into Them, So Be Careful
Life makes sense when there's balance; balance between work and play, between your friends and your partner, between your feelings for your partner and their feelings for you. But when balance isn't met, life can get a little rocky — especially when it comes to your love life. If you start feeling a lack of balance between yourself and bae, you might begin to notice several red flags your partner isn't as interested in you as you are in them. When this happens in any relationship new or old, it can be disheartening and concerning, but fret not. I reached out to a few experts for their help in compiling a list of red flags to watch out for, so you can protect your heart.
Relationships take work from both parties, and when one person is putting in all the work, the relationship can quickly become one-sided. "If you are in a committed relationship, then you want parity and equality, ideally, so being more interested in your partner than they are in you is a terrible feeling and a good sign that the relationship isn't working for you," Caroline Millet, Seattle-based Three Day Rule matchmaker, tells Elite Daily. "You want give and take — sometimes you need your partner more and sometimes, they need you more. If you find yourself [being] the one always giving, it becomes too unbalanced to sustain over time." Below, the red flags experts say will help you know to take a step back.